kd lang was a couple of songs into her Hong Kong debut when someone from the audience yelled out 'what a voice!'

A swelling cheer of agreement shook through the crowd.

And what a voice!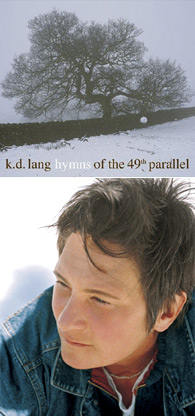 Hymns of the 49th Parallel features 11 tracks, ten of which are covers, penned by Canadian songwriters Neil Young, Joni Mitchell, Jane Siberry, and Leonard Cohen. Including "After The Goldrush," "Hallelujah," "Jericho," and more.
Whether belting out her signature tune, "Constant Craving," or covering Leonard Cohen's glorious "Hallelujah," katherine dawn lang is a truly exquisite singer, with notes that reverberate throughout the body. lang live is even more powerful and seductive than on recording. On Wednesday night at the Hong Kong Convention & Exhibition Centre, a touch of huskiness crept in, which only enhanced the sexiness of her singing.
lang sauntered on stage, barefoot, swathed in a flowing jacket and what looked like a grey sarong. With her hair cropped short, the Canadian diva resembled a Buddhist nun. The tour's promotional posters show her smiling cutely at the camera, with a playful 'come shag me' look. Not an image, to my utter disappointment, she is taking on tour.
The arrangement was just enough to lift lang but not drown her out. She was accompanied by her own band - piano player Teddy Borowiecki has been with her 20 years, pretty much her entire career - and a local string ensemble.
lang, 43, has a great stage presence. She really has fun, bouncing around and bantering with the crowd. She picked on some latecomers - 'cocktails just too good at the bar, right?' For "Miss Chatelaine," she got the crowd giggling by pirouetting around the stage, jiggling her chest and rubbing her body lasciviously. 'You have a fine sense of appreciation for dance,' she thanked the crowd after their applause.
lang was her most charming when making digs at her own sexuality. At one point, she writhed in mock disgust after her double bass player kissed her on the cheek, pretending she had been jabbed by his beard. 'And that's why' she quipped, explaining away a lifetime of lesbianism by the fact that men have spiky stubble.
And lang did a fine job of entertaining us, considering she was up against Hong Kong. The city's concertgoers are notorious for sitting demurely in their seats and clapping politely. The audience - roughly split between straight-looking middle-aged expats and a younger, mainly local, crowd of lesbian couples - started off a bit apathetic - gentle foot-tapping and jiggling in seats was about the most lang could squeeze out of them. But by the end, the buzz was buzzing, the atmosphere was happening, and the crowd was swarming to the front banging out 'encore, encore,' with one keen woman pleading 'give us a kiss!'
lang shocked the crowd by thanking everyone and making as if to leave when she reached the end of the third song of her show. She came back of course, but it only seemed like moments later she was ending the concert for real.
All in all, the performance was simply too short, not much longer than an hour. She just had time to cover the songs that made her famous - Roy Orbison's "Crying," her anthem, "Constant Craving," and a mellow selection of covers from her latest album,
Hymns of the 49th Parallel
- a tribute to Canadian songwriters, Leonard Cohen, Jane Siberry and Neil Young. And then she was gone.
At times her voice was warm and caressing in an unforgettable spine-tingling rendition of Jane Siberry's "In the Valley." At other times she almost turned herself inside out with a heartfelt tribute to Patsy Cline, the woman who inspired her to start it all, and sing.
This is a woman who wants you to love her for her voice alone.
And, after hearing her live, that's not hard at all.
k.d. lang performs at Singapore's Esplanade on Feb 4, and at Tokyo International Forum Hall on Feb 25. She will also play several dates in New Zealand and Australia. See www.kdlang.com for tour information.