"Today I'm aware that there is more than just tennis," the seven-time Grand Slam winner said at her tennis school here in central Belgium.
"But tennis is what I do best. I'm 27 and still physically capable.
"Now the hard work starts. I'm going to have to get back the confidence and go through stages which I'd forgotten about." Henin said.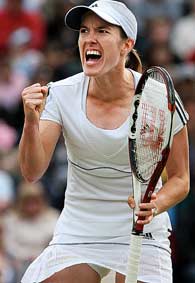 "Time is on my side. But it'll be a long road.
"I like a real challenge. Ambition is part of me; I need to live something exceptional, to feel the adrenalin. It's part of me."
"I think it is a good choice, a big decision in my life," the 27-year-old Belgian told VTM television on Tuesday. "The past 15 months I have been able to recharge my physical batteries, mental batteries (and) emotional batteries.
The seven-time Grand Slam champion hailed from French speaking Liege, Belgium sent permanent shock waves across the tennis world when she retired in May 2008 while ranked number one in the world, saying she no longer had any passion for the game.
Henin's last moments during the 2008 season was poor. She was trashed by Maria Sharapova in the quarter-finals of the Australian Open. Further proof to her dwindling interest in tennis back then was her failure to advance past the quarter-finals of her last three tournaments.
Henin had been scheduled to play exhibitions in Dubai and Belgium in November and December, to get herself back into competitive form for 2010's first Grand Slam, the Australia Open which will start in 17 week's time.
"The aim is to return (to the tour) in January in Australia. In any case it will be during the 2010 season."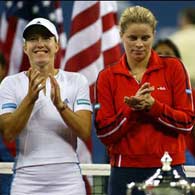 Kim, are you sure Henin's return is fantastic?
Speculation of Henin's intentions to return to the game first started when she increased her training and recently ordered 14 tennis rackets. Further proof was her softened stance about a return from a repeatedly firm "no".
Perhaps she wanted to see if her compatriot Kim Clijsters was able to win the US Open after just a month back on the professional circuit.
Henin won her first three Grand Slam titles at the expense of Kim. Hence, it came as a surprise for Kim Clijsters to hail Justine's return as "fantastic".
"Justine worked very hard in the past to get magnificent results in her first career," Clijsters said on her website.
"For tennis it's fantastic to see her come back. It's very good for women's tennis and very good for Belgium."
Poor Kim, just when she thought her nemesis is out of her way, here comes Henin coming back to ruin her chances of winning more Grand Slam trophies.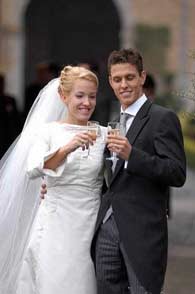 Henin with ex-husband, Pierre-Yves Hardenne
And the return of Belgian will only spell trouble for American diva Serena Williams. While Henin was at the top of her game, Serena could only muster one Grand Slam title, her 2007 Australia Open. That was mostly due to Henin missing the 2007 Australia Open to deal with the breakdown of her four-year marriage to Pierre-Yves Hardenne.
Serena went on to win three Grand Slam titles during Henin's pre-mature retirement and the million dollar question now will be if Williams can continue her Grand Slam winning streak with the return of her long time arch rival.
Henin has won 41 titles after turning professional in 1999. Her achievements was credited to owning the best single backhand in the sport and also bucking a trend towards a power game by taller and stronger women with her slight frame. Her movement and ability to absorb powerful strokes from bigger opponents was exceptional.
These attributes earned her four French Open, two US Open, one Australian Open and an Olympic gold in 2004, but she has yet to win Wimbledon, despite two final appearances.
Looks like Serena will never win another French Open
Questions on her racket would be if she can break the Williamses stranglehold on the Venus Rosedish at Wimbledon and if she can improve her sportsmanship. Her infamous incident at the 2003 French Open semi-finals against Serena Williams has tarnished her creditability. Even today, six years on, Henin remains the wicked girl of the tennis world for her poor choice of tactics during that dramatic match on her way to win her maiden Grand Slam title.
Hopefully, this time around, she does not resort to underhand tactics to win her first Grand Slam upon her return.