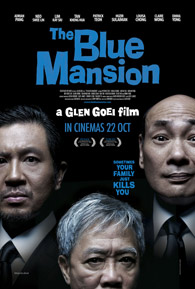 With Singapore theatre prices going through the roof these days, here is your best chance to watch Singapore's finest theatre actors all under one roof for just S$9. The roof, in this case, belongs to the majestic blue Cheong Fatt Tze mansion in Penang – an architectural monument in Malaysia, and now the titular star of a whodunit movie.
Here is where the old tycoon Wee Bak Chuan (Patrick Teoh) lives – or rather, used to live. Mr Wee is now dead. But his soul lingers in the house, trying to solve the mystery of his own untimely demise. None of his three children (Lim Kay Siu, Neo Swee Lin and Adrian Pang) were particularly fond of him, so all become natural suspects to his murder.
Written by former political journalist Ken Kwek and directed by Glen Goei, The Blue Mansion is a classy and clever murder-mystery with some extraordinarily good performances. But what is quickly turning into the talk of town is speculation that the film is about the Lee family.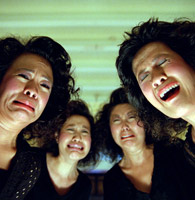 Netizens draw parallels between Wee Bak Chuan and Singapore's founding father Lee Kuan Yew. They even claim that Wee's three children share traits with Mr Lee's own children. Whether these parallels are deliberate or coincidental, only the filmmakers would know. But there's no denying how powerfully layered a satire it becomes because of them.
The Blue Mansion is easily the must-watch of the week.