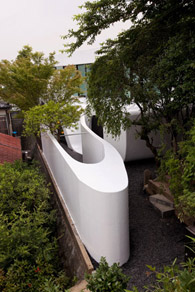 'When I first saw this site I was extremely moved; there was something spiritual about it,' says Maeda, who met the clients, a couple in their 40s, through Japan's social networking web site Mixi. 'They were looking for a designer who could fuse architecture and nature in entirely fresh way,' explains Maeda. It is easy to see why. Accessible only by a steep run of stairs, the unique plot looks out over a dense roofscape but backs onto a stone retaining wall supporting an open field above, also owned by Maeda's clients.
With his clients' goal in mind, Maeda thought immediately of an infinite Mobius ring: the seamless connection between the ring's inner and outer surfaces seemed like an apt metaphor for blending interior and exterior. And then he modified the plastic shape slightly to create the differentiated spaces requested by the couple.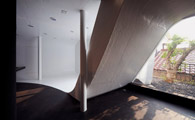 The house begins with a steel bridge connecting it to the existing stairs. The bridge leads to the terrace that overlooks an enclosed garden - the house's most distinctive feature – and segues into the combined living-dining-kitchen area.
The bed and bathrooms are located beyond the stairs that lead down to a pipe organ practice room for the wife and an office for the husband, a free-lance book designer. To distance home and workplace, the office has its own entrance approached by a narrow path along the moss-covered retaining wall.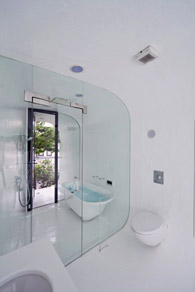 Though concrete seems like the logical choice for Celluloid Jam's continuously curving walls, timber frame was actually easier. 'Concrete requires intricate formwork plus we had to carry everything up the hill so heavy materials were out of the question,' explains Maeda. But thanks to a thick coating of fiberglass-reinforced plastic, the architect achieved the desired result: a smooth, continuous surface, both inside and out.
(Photography Toshihiro Sobajima)
The article is republished with permission from Wallpaper.com