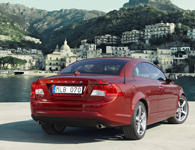 In terms of car design, the Volvo C70 was quite a revelation, back in 2006, that is. Those days, four-seater coupé-cabriolets were plagued with huge rear ends not unlike Serena Williams'. The French (Peugeot 307 CC and Renault Megance CC) came on to the market first with two-piece folding metal roofs. Their extraordinary huge rear ends were necessary to house the huge metal roof when folded, hence accounting for the awkward profiles.
Volvo wanted to bank in on the booming folding hardtop market, but clearly did not want to end up with a coupé-convertible that looks like a halfway house between an estate and a coupe. Hence, they went through great pains to engineer a three-piece folding roof that would ensure a convincing coupé like profile. Perhaps they have consulted every fickle minded gay man's favourite flat-pack furniture maker, Ikea. Rubbish talk aside, the end product is a slick and elegant profile. Not P1800 classic beautiful, but "sexy" enough for the saint not to mind the C70 as a company car.
Well, the big news is that the four year old Volvo C70 receives a much needed refreshing up. Changes includes a pair of "Bette Davis" headlights, a larger iron mark logo nicked from the XC60 SUV, new LED tail lamps and to top things off, an all new Flamenco red metallic paint, which was featured on our test unit. In terms of aesthetics, we think the C70 does have an edge over newer rivals like the BMW 3-series coupe-cabriolet and the Lexus IS250C. Really.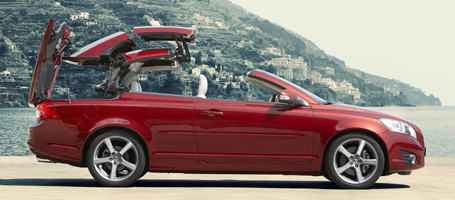 Other than tweaking the looks, pretty everything else remained as before, including a relaxed driving experience. Truth is, having such a complex folding steel roof could only mean a ponderous 1,761kg kerb weight. Despite claims from the manufacturer that 8.0 secs is all it takes to hit 100km/h from a standstill, the turbocharged inline five-cylinder engine (the only variant available locally) does feel short of puff at times. Should you try to press harder for more performance; the claimed fuel consumption of 9.4 L/100km for a combined cycle will be a fairy tale.
Besides being rather porky, Volvo's five-speed Geartronic gearbox seems in need of a couple more gear ratios to keep the turbocharged five-cylinder engine within the desirable powerband. And for those who were hoping for any old skool turbo induced torque steer, there will be none, as we have failed to notice any from the front wheel drive C70.
Lurking underneath the sleek lines of the C70 is a mechanical architecture sourced from the Ford Focus, which normally implies excellent driving manners and a well sorted ride. Somehow like almost every open top car, losing the rigidity of a fixed roof does the C70 no favours. With the roof down, the C70 is constantly troubled by shuttle shakes when traveling over potholes. Anything bar smooth road surfaces seems to send jolts into the cabin. However, once the roof is back in place, the ride quality improves significantly. On the driving front, grip levels are high and the steering is linear, though we would hope for more feedback and weight.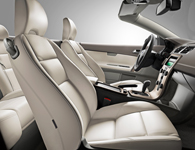 What would win customers over would be the excellent levels of refinement that is made possible by the folding metal roof. With the roof up, wind noise is hardly detectable and unlike some CCs, the C70 is leak proof. The interior is yet another fine example of Scandinavian designs; as it strikes a fine balance of form and function. The floating center console will remain a conversational piece for a long time and the ultra comfy seats will impress all on board. What would prevent Volvo from earning a full "premium" status with its interior would be some plastics and buttons that needs a tad more tactile feel. And those instrument dials are just not all that exciting to look at. Regardless, the C70 offers a well thought-thru cabin that can accommodate you and three others in comfort for al-fresco motoring.
The flaws and compromises are typical of coupé-cabriolets. If your mind is set on a practical four-seater convertible and a metal folding roof, the Volvo C70 is definitely worth a serious look. Just don't expect new owner Geely to hatch a Chinese C70, or will they?
| | |
| --- | --- |
| Engine | 2,521cc in-line, five-cylinder turbocharged |
| Transmission | Five-speed automatic (Geartronic) |
| Wheels Driven | Front |
| Max. Power | 230bhp @5,000 rpm |
| Max. Torque | 320Nm @1,500-5,000rpm |
| 0-100 km/h | 8.0 secs |
| Top speed | 235 km/h |
| Fuel Economy | 9.4 l/100km (combined) |
| CO2 Emissions | N.A. |
| Dimensions (L x W x H) / Weight | 4,815 X 1,836 X 1,400 / 1,761kg |
| Price with COE* | S$240,000 |