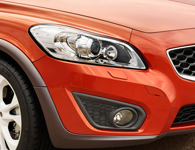 When the Volvo first launched the C30 back in 2006, it marks a re-entry to a segment they pioneered with the 1972 P1800ES and the 1988 480. They all stood out with their delectable fusion of hatchback and station wagon with an all-glass tailgate. We applaud Volvo for staying faithful to the 2001 VCC concept car - with the initial C30 - albeit with a way too sober front end shared with its S40/V50/C70 siblings. Hence the 2010 update sees the adaption of the forecoming S60 sedan's (September for Singapore) nose. The expressive looking headlamps and mega attention grabbing grille comes with the biggest Volvo logo we have ever come across. Thumbs up for the C30's new dramatic front looks, finally, to match the distinctive all-glass rear.
Options has now been raised as an interesting aspect of this car; Volvo has obviously noticed that personalization is a key to the success of the Mini Clubman. The manufacturer claims that there are 465,696 possible permutations (Singapore). It's going to create a nightmare for the Volvo logistic folks, but the carmaker knows that in the age of terminal traffic congestion, spiraling fuel prices and levy greedy speed law enforcers, we can no longer get our motoring highs from driving alone.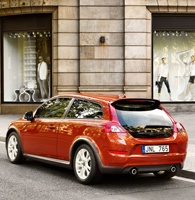 Speaking of driving, our top spec T5 musters 230bhp and 320Nm of torque. The five-pot, turbocharged 2.5 litre engine is capable of sending the C30 from rest to 100km/h in 7.1 secs, an engine which the Ford Focus ST and RS has employed to a much more devastating effect. Not to discount the respectable performance, the Volvo feels torquey, flexible, refined and very linear up to 6800rpm redline accompanied by an off-beat, five-pot growl. Pity the dual-clutch gearbox is restricted to the 2.0 litre model at this moment as the five-speed auto on the T5 feels a little slow witted.
Regardless, don't confuse even this top engine option with a "hot hatch-coupe" though, especially with the Scirocco R. There is enough power here to entertain, but not enough to thrill despite the 30% stiffer suspension settings on the T5. There isn't much steering feel but it's meaty and accurate. The power is harnessed down with no drama, both ends grip well and you have to be pushing really hard before the C30 starts to lean heavily. For any true "sports" credentials, a more throughout transformation is to be called for.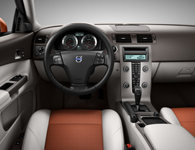 Despite the 17-inch rims, there is little to stop the car from delivering a remarkable good ride. This is a great platform to appreciate the seat comfort and our car was trimmed in the Kalix and T-tec synthetic fabrics inspired by wetsuits and running shoes, which Volvo is offering alongside with leather. They look original and we like them, a lot. Just like the distinctive high quality interior with the 'flying' central console, despite a few ergonomic niggles like the high-set driving position, fiddly stereo control buttons and slightly dull green-lit instrument dials.
The strict four-seater C30 may put some potential buyers off, but honestly, how often would a three-door hatchback be tasked with carrying five on board? While the pricing may suggest the shooting-brake profiled hatchback to be a Volkswagen Scirocco rival, the test drive experience left us convinced that this is an intended rival to the Audi A3, BMW 1-series and the Mercedes CLC. The aggressively priced Volvo C30's new set of Bette Davis eyes will only widen its appeal.
This is a hugely important car for the Swedish carmaker, as it introduces Volvo's core brand values (build quality, safety, value) to a potentially younger set of audience and added enough pazzazz to make a very appealing package. Now, we empower you to slap the ignorant fool who still thinks Volvos are flying bricks!
Alternatives:

Saab 900 <1979-1994> (L)
The stubby looking saloon/hatch/coupe combi was one of Saab's finest hour, but honestly, if you can somehow locate one working example, you shouldn't drive it daily, as you would be having AA on your speed dial. Or maybe you are into men in jumpsuits…hmmm.
Alfa Romeo Brera (R)
The Italians wanted to convince us that this is a coupe, but in practice (well, at least to these eyes!), it feels very close to the Volvo C30. Note that the Italian has ZERO legroom in the rear.
| | |
| --- | --- |
| Engine | 2,521 cc Turbocharged inline five cyl |
| Transmission | 5-speed automatic |
| Wheels Driven | Front |
| Max. Power | 230bhp @5000rpm |
| Max. Torque | 320Nm @1500rpm - 4800rpm |
| 0-100 km/h | 7.1 secs |
| Top speed | 235km/h |
| Fuel Economy | 9.0L/100km |
| CO2 Emissions | 224 g/km |
| Dimensions (L x W x H) / Weight | 4266X1782X1447 / 1458kg |
| Price with COE* | S$180,000 |