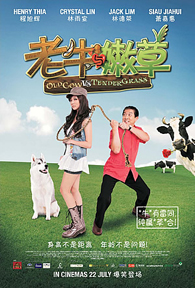 Card-carrying members of the Gay Agenda and attendees of Pink Dot: you are all honour bound to support Old Cow vs Tender Grass, a local comedy based on a Mandarin phrase "老牛吃嫩草", a euphemism for sugar daddy and all things sugar daddies do to sweet young things. Remember that the vow you swore at Pink Dot to support the freedom to love – and surely that includes the love between an old cow and tender grass!
The romantic comedy's A plot has Henry Thia wooing the hand of young Crystal Lin. In the B plot – which has nothing to do with the title of the film – Jack Lim will win the heart of a PRC nurse moonlighting as a beer maid, played by Siau Jiahui. What connects the two seemingly disparate plot lines, you ask? Script-wise, Henry and Jack play a pair of taxi drivers who hang out together in a coffeeshop after work. On a fiduciary level, the film must have been secretly funded by the nation's dating agency, eager to solve Singapore's plummeting birth rate by encouraging Singapore men to entertain the idea of spring-winter romances and foreign brides.
Also, looking at the barrage of thinly disguised public service messaging in this film, there must have been an understanding between the film's producers and other government departments. I believe this makes for a slightly more challenging drinking game – you'll need to identify the public service message moments and identify the relevant authority.
That's because you'll need something to distract yourself from the long string of topical gags and cardboard stereotypes (that aren't related to either main plots) that infest the film. They are all rants on taxi driving or rants on life in Singapore which you (and the screenwriter) read in the Sammyboy forums or The New Paper recently.
In this comedy film, there are set-ups without punchlines and punchlines without set-ups. Plot lines are introduced out of thin air and vanish just as suddenly. Coincidences pile on coincidences improbable even for the romcom genre, while characters act with no discernible real world logic. Had the marketing team been any more savvy, this would be billed as a surreal science fiction film on par with David Lynch or Jean Luc-Godard.
Watch this if you're easily amused.