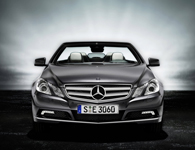 Are you in the market for an open-top car? Before you whip out your cheque book and commit to one, there are some rules that one must observe when it comes to such cars. If you are single, it will have to be a strict two-seater, roadster. For the happily attached, your options for an open-top car can include a four-seater cabriolet. Note operative word is happily.
Why the rules? Simple, buying such cars is all about engaging on-lookers. It's safe to say that all two-seaters are capable of that. While a four-seater cabriolet can be challenged in this critical area. In the older days, one could land up with an open-top saloon (like the E-class cabriolet in the early 90's). And in recent times, the rising popularity of folding hardtops has saturated the market with odd-shaped cabriolets like the Lexus IS250C and all Peugeot CCs.
Thankfully, our test car, the new E350 cabriolet was free from these problems. Even though, the wedgy, ultra-aerodynamic look is most certainly not everyone's cup of tea. But to these eyes, the E-Class cabriolet looks the deal as there are genuine design charm and presence that are normally associated with much more expensive offerings like the Bentley Continental and Maserati GranCabrio. In particular, the ponton-inspired rear fenders lifted off from the 1956 220 S Coupé gives the E-class cabriolet a profile somewhat akin to Bentley Continental Convertible's, really.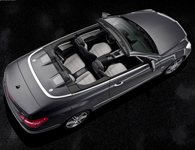 Credit to Mercedes, the creators of the folding hardtop for resisting the temptation to fit a folding hard-top to their new E-Class cabriolet, instead sticking to an old-fashioned but tech-current fabric top, giving it a side profile that is remarkably similar to the coupé. Coupled with a particularly neat fabric hood, it helps to make the car the most aerodynamic in its class, with a Cd of 0.28. That's shy of the world-beating 0.24 of the E-class coupé, but still exceptional.
Mercedes claims a 20sec operation, although our test car did take a tad longer at 28sec to flop down. The roof can be operated at speeds up to 40km/h, so you don't really need to make an emergency stopping if there is an impromptu shower on your topless parade. Though shopper-holics must note that boot space is reduced a further 90 litres from a rather tight 390 litres.
Roof up, the E350 cabriolet is really refined; the fabric hood offers excellent sound insulation. Makes you wonder why anyone should bother with the folding metal roofs.
Broadly speaking, the E-class's core strengths - decent body control and a compliant ride –has remained intact during the switch from hard-top to convertible.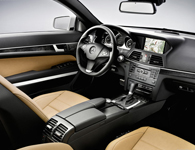 That said, like all open tops, the E-Class cabriolet remains inflicted by shuttle shakes over imperfect road surfaces. Slight vibrations in the rear-view mirror and that's about as bad as it gets on what is a well resolved package.
The E-Class cabriolet boast a ride quality superior to its closest rivals like the BMW 3-series and Audi A5. And true to Mercedes' form of late, the E350 is dynamically able as the steering is pleasingly weighty around the straight ahead, albeit smooth rather than feelsome.
On the topic of being smooth, the 3.5-litre V6 powerplant is refined and can be quite rev-happy. But honestly, we can't help but feel overwhelmed by the hunger for more drama and go. All of these characteristics mean that the E-class cabriolet is confined to be a relaxed cruiser – very frustrating as it most certainly can go beyond it and offer entertainment. Clearly, Mercedes is reserving the "fun" bits for the AMG models which inevitably demands more outlay!
At S$300,888, the E350 cabriolet is reasonably well equipped with toys and frills. The highlight of the spec sheet would be the new wind deflector set-up called Aircap. It comprises a deflector in the windscreen frame and a draught-stop between the rear seats.
It extends from the windscreen header rail at the push of a button and Mercedes says Aircap is effective at reducing wind intrusion and noise at up to 160km/h.
It works for rear seat passengers, hugely reducing the din and making conversations easier. However the trade-off is that it looks awkward and generates extra wind noise for those in the front. Wouldn't a standard sat-nav be more beneficial than this gimmicky air-bra?
For the happily attached, the E-Class cabriolet represents a sound buy with its impressive combination of style, luxury and refinement. However, prospective buyers should be warned that some of the engine and gearbox combinations would be replaced by newer and more efficient units in the near future.
Not that this statement will stop you from reaching out for your Loewe cheque book holder. Guess this is the "IT" car for this season. But I'll keep my top on for this occasion. Think Mercedes has something meatier installed for me.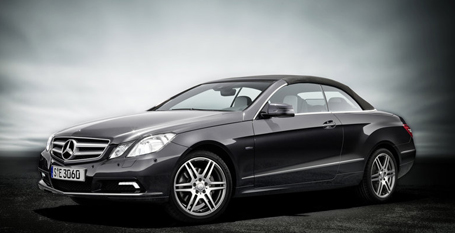 | | |
| --- | --- |
| Engine | 3498cc V-6 |
| Transmission | 7-speed automatic |
| Wheels Driven | rear |
| Max. Power | 295bhp @ 6400rpm |
| Max. Torque | 365Nm @ 3000-5100rpm |
| 0-100 km/h | 6.8 secs |
| Top speed | 250 km/h (limited) |
| Fuel Economy | 9.0 km/litre |
| CO2 Emissions | 208 g/km |
| Dimensions (L x W x H) / Weight | 4,698x1,786x1,398 / 1790kg |
| Price with COE* | SGD$300,888 |