A pint-size Cadillac, a 4x4 cabriolet and a virtual Maybach rickshaw were just some of the more unlikely debutants at 2010's LA Auto Show, adding more weight to the growing argument that the California show is now the most daring and forward-thinking mainstream US car exhibition.
As the West Coast State is still the biggest sales market in the US, representing a tenth of the total North American market and more than 20 per cent of all hybrid sales, the LA Show is also the most important from a business and environmental perspective.
Perhaps unsurprisingly, 'sustainable luxe' was one of the key themes of the show as maker after maker showed smaller, more fuel-efficient but still luxurious concepts and production vehicles. 'Lightweight' was also very much part of this trend even among the bigger high-performance unveils from Porsche and Mercedes – less weight means less fuel and emissions required to move the car.
Fittingly, weight was also the brief to this year's always-enlightening 'virtual' LA Design Challenge, an annual contest that encourage concept studios to push the boundaries of what a car can be.
All in all, the mood was good, and the 2010 LA Show was a far cry from the crumbling industry of just 2 years ago. Exhibitors were genuinely upbeat and there was innovation, interest and variety on display.
Cadillac Urban Luxury Concept (ULC)
'There is no minimum size for a Cadillac driving experience,' says Frank Saucedo, General Motors' Advanced Design Director in charge of Cadillac's new city car concept. Yes you heard that right. The classic US brand associated with big luxury sedans and SUVs revealed its pint-sized Urban Luxury Concept in LA. 115mm shorter than a Ford Fiesta and with a tiny electrically-assisted 1.0-litre three-cylinder petrol engine under the bonnet, it's nonetheless able to fit four adults inside a cabin of understated class using leather, carbon-colour wood inlays, aluminium accents and ceramics. Small doesn't have to mean cheap. If feedback is good GM might even put it into production.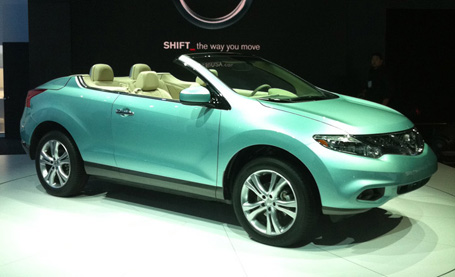 Nissan Murano Cross Cabriolet
Does the world need or even want an all-wheel drive crossover convertible? Nissan is convinced there's a market and unveiled this four-seater 'concept' curiosity based on its existing large 4x4 Murano in LA. Even more shocking is that the car has already been signed off for production and goes on sale in early 2011. Could it be the first of many luxury beach buggies?
LA Design Challenge
Now in its seventh year, this fantastic virtual-only competition pits the wits of the best car designers on the West Coast (and this year from around the world too) to meet future-facing design tasks with innovation and imagination. 2010's brief was to design a 1000lb (454kg) car capable of carrying four passengers in style.
One of most interesting concepts and another small luxe idea – from Mercedes' Japanese studio – was the human-electric powered rickshaw Maybach DRS concept (pictured here). Described by Maybach's overall head of design Gorden Wagener "as a running Fabergé egg," it envisions see-through panels that create a gold lattice effect via electric current passed through them, with an onboard computer that can be 'plugged' into a future mega-city transport infrastructure. On top of that, it can even be supplemented by human driver pedal power.
The joint winners were the compressed air-powered GM Aera (head picture) and the Smart 454 Weight Watch Technologies beach buggy concept (pictured here), the latter featuring a knitted carbon fibre chassis, plus Smart-familiar modular clip-on construction and recycled plastic panels.

The Air Motion Canyon Carver, Volvo's entry to the Design Competition (pictured left) and Mazda's entry to the Design Challenge, the featherweight MX-5 Miata (pictured right).