What a sweet deal it was for Geely; they purchased Volvo for $1.8bn from Ford – which cost them $6.5bn in 1999 – and the newly launched S60 and V60 looks set to win more buyers. The new and somewhat smaller S60 heralds a shift in the Volvo design language; being the first car styled from scratched by former design Chief Steve Martin, who has since left Volvo for over a year.
The intended shock value of the "frog-eye" squint has been diminished by the XC60, C30 and C70. What is refreshing though would be the extremely short overhangs at both ends and boldly sculpted bonnet; which the design team calls the "racetrack design". Our press car, the top of the range T6 had the optional exterior styling kit that comes with front and rear skid plates and side scuff plates; which IMHO would seem more suitable on a SUV rather than a sedan. Otherwise, the S60 is a handsome and purposeful looking machine.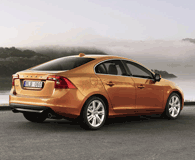 The much hyped coupe-like profile is frankly more of an evolution of the previous model. In 2000, the S60 was such a groundbreaking design; it predates the 2005 Mercedes CLS as the first modern coupe-sedan mash offering. The difference is that the Germans are much better at marketing tactics compared to the Swedes. And they are still not that good at it today; during Volvo's car launch presentation, the word or variations of "sporty" is seemingly on an infinite mention mode; fact is, the new S60 is just not that "sporty" to drive as Volvo would have wanted us to believe.
It doesn't take long behind the wheel of the S60 to realise that Volvo still places comfort as a priority. The "sporty" sedan still aces in providing stress-free driving and we can't imagine the Swede to abandon its core strengths and tradition. Surely Volvo might find this a good virtue to uphold if they want to succeed in China, which would satisfy new pay-master.
And that's a good thing. Volvo's failed attempt to emulate the German sporty executive sedan means that it will remain a choice buy amongst leftfield eccentrics and intellects. According to the influential NCB survey used by European car makers; 70% of Volvo's customers hold at least a degree which is substantially higher than Mercedes' 50%.
Our car came without the Four C (adaptive dampers) which offers Comfort, Sport and Advanced settings. Such system offers negligible difference and to be honest, the regular suspension is very pleasing; fine body control and great abilities to deal with bumps. Your Volvo-driving dentist will not be too worried if his swanky new S60 sedan has the fattest sports rims or an unforgiving ride that will ruin his own dentures.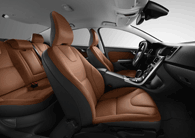 The most satisfying aspect of this anti establishment buy would be the hallmark Volvo interior; ultra comfy and supportive seats, logical dash layout and an elegant centre stack houses all modern functions with thankfully few buttons. Things which the usual German suspects are still incapable of.
While the top-dog T6 (turbocharged inline 6-cylinder) churns out 300bhp and 440 Nm of torque, its' bonkers acceleration thrill with assuring traction from the standard AWD (All Wheel Drive) fails to convince us that it is an involving performance flagship. It feels more like an effortless cruiser; which the cheaper and slightly more agile 2.0T model seems to be capable of as well.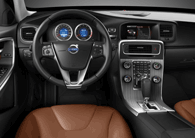 But buying the cheaper model means missing out on some of T6's standard safety gizmos like the ACC (Adaptive Cruise Control) and Collision Warning with Full Auto Brake and Pedestrian Detection. The flagship model also comes with Rear Park Assist camera, navigation system and a mind-blowing 12 speaker premium sound system as standard. The 2.0T model comes in two trim levels, Dynamic and Premium and the T6 comes in only one trim, packed with all the toys mentioned. With prices ranging from SGD$179,000 to SGD$223,000, we reckon Volvo can quite easily achieve its initial target to shift 90,000 S60 sedans globally.
Apart from a slightly claustrophobic rear accommodations, this is a sweet car to own.
| | |
| --- | --- |
| Engine | 2,953 cc inline-6 cylinders, Twin-scroll turbo |
| Transmission | 6-speed automatic |
| Wheels Driven | All Wheel Drive |
| Max. Power | 304bhp @ 5,600rpm |
| Max. Torque | 440Nm @ 2,100-4,200rpm |
| 0-100 km/h | 6.5 secs |
| Top speed | 250 km/h |
| Fuel Economy | 9.9 L/ 100 km |
| CO2 Emissions | N.A |
| Dimensions (L x W x H) / Weight | - / 1,759 kg |
| Price with COE* | SGD$233,000 |