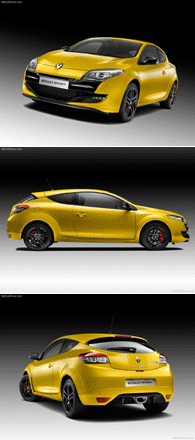 Is this a coupe or a 3-door hatchback?
Compared to the rest of the humdrum Mégane range, our featured car here looks like a gym rat – sips nitrous oxide and steroids, of course. The pumped up looks come courtesy of those massive wheel arches and the pronounced side sills. The Mégane RS is filled with details to remind you and onlookers that this is a serious driving tool; at the front, there is a Formula One type aerodynamic blade, wide air intake and a central exhaust tailpipe that's incorporated into a small diffuser at the rear.
The Mégane RS may look anything but subtle, especially so with the LED running lights, but we assure you that it does not come across as crass or worse, a dodgy rhinoplasty victim. If anything, the French car appears to be more bespoken and outspoken, rather than the clinical approach favoured by the Germans.
Providing the "go" is a turbocharged 2.0-litre, four-cylinder engine that produces 250 bhp, which is channelled through a new short-shift six-speed manual gearbox to the front wheels. 0-100 km/h takes 6.1 seconds and it will only run out of puff at 245 km/h. The engine is extremely linear, rev happy and admirably lag-free; though we came away slightly disappointed with the rather uneventful engine soundtrack.
To allow the RS to handle that much power without going into a frantic rubber shredding mode, they have fitted 'Performance Hub' in the front axle to reduce torque steer. And all of our Mégane RS cars are with the Cup chassis; they come with a Limited Slip Differential (LSD) aimed at squashing torque-steer by distributing power between two wheels to optimise traction.
In reality, it works wonderfully well under most conditions. Only on poor roads or under extreme driving circumstances, there will be some unsolicited action from the steering. It's frankly up to the driver's abilities to exploit the capabilities of the RS. In short, this pocket rocket is not intended for traffic light grand-prix amusements, instead focuses on control and speed, rewarding clean driving over a challenging road.
The RS's ability to grip and resist roll is admirably high and our experience with the car on public roads is frankly very not even close to what it is fully capable of. Clearly, owners are expected to venture into track days as it is equipped with a Sport Monitor, where you can have information on g-force, lap timer, performance data and conditions of vitals like turbo pressure, oil temperature and real-time engine performance.
Stopping power is awesome thanks to its four-pot Brembo calipers and 340mm diameter vented discs at the front. And pedal feel is exceptional too as its servo is 11 percent more powerful. Excellent for track use and urban sprints, we say.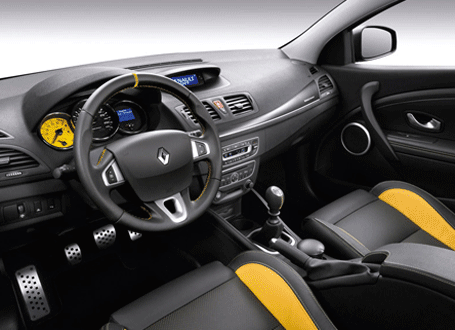 Highlights in the otherwise bland interior includes, excellent Recaro seats, contrasting yellow stitching on gearlever and steering wheel and a Ferrari-inspired yellow tacho.
So what we have here is a very capable hot hatch that would have every box ticked for driving pleasures. Even though the Mégane RS equipped with the Cup chassis is firm, there is a surprising high level of suppleness, so daily urban use is acceptable, if you can live with shifting the stick.
And best of all, it undercuts a Volkswagen Scirocco R by a massive S$28,000, surely, you can't argue with that!
| | |
| --- | --- |
| Engine | 1998cc turbocharged 4-cyl |
| Transmission | manual |
| Wheels Driven | front |
| Max. Power | 250hp@ 5500rpm |
| Max. Torque | 340Nm@ 3000rpm |
| 0-100 km/h | 6.1 secs |
| Top speed | 245km/h |
| Fuel Economy | 8.4L/100km |
| CO2 Emissions | NA |
| Dimensions (L x W x H) / Weight | -/1373kg |
| Price with COE* | S$159,888 |