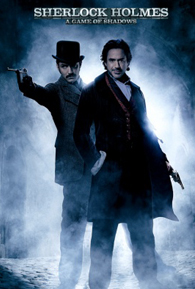 Guy Ritchie's Sherlock Holmes was one of the better-done 'spruced up' literary adaptations (just compare it to Van Helsing or League of Extraordinary Gentlemen) of late for good reason. So it was no surprise that a sequel was made.

The film begins after Holmes' (Robert Downey Jr) first brush with the greatest foe he would ever face in the form of Professor James Moriarty, tracking old flame/sometimes enemy/Moriarty confidant Irene Adler to the heart of a vast conspiracy involving numerous anarchist groups throughout Europe. With the help of newly-married sidekick Dr Watson (Jude Law), brother Mycroft (Stephen Fry) and a new heroine in the form of gypsy fortuneteller Simza Heron (the original Girl with Dragon Tattoo, Noomi Rapace), he finds himself soon in a race against time to outwit the nefarious Professor Moriarty (Jared Harris).

The first film worked since rather than seeking to reinvent the legendary detective's canon of adventures, it simply built up on and expanded them by adding in action sequences but still retaining the air of a good old-fashioned mystery. And for the most part, it succeeded brilliantly as a series of pull-back reveals, in which a series of inexplicable events happen but where flashbacks brilliantly demonstrate the simple, yet creative and often scientific and common-sensical explanations for those same inexplicable events. It also had a strong character arc, in which a rationalist like Holmes finds himself up against seemingly supernatural forces and has to contend with them. In its place, the sequel trades these simple but powerful reveals for a series of convoluted, Rube Goldberg action sequences and overcomplicated but unimaginative manoeuvres more at home in a Bond or Mission Impossible film. The breakneck pacing hurts the storytelling in having the story start at top gear, from which it can only plateau rather than rise in crescendo. And to top off the original's martial arts battles, adds a gimmicky touch borrowed from Zhang Yimou's Hero in several extended mental duel sequences, in which Holmes and his would-be opponents trade blows in their minds before committing to a fight.

The script, with its typical military-industrial-complex bashing, ends up coming close to approximating a slightly more competent version of League of Extraordinary Gentlemen in being a contemporary action movie simply starring famous literary characters. That the action sequences are for the most part well-executed ceases to matter when the magic of sleuthing is gone. There is more action than ratiocination to be found here, and that is sadly, to the film's detriment.