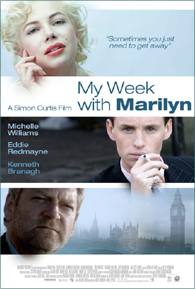 My Week With Marilyn
is the print-to-screen adaptation of the memoirs of Colin Clark, chronicling his alleged brief affair with Marilyn Monroe when the former was very young third assistant director (i.e. a gopher) on the film set of
The Prince and the Showgirl
.
Now Marilyn Monroe was not the best actress in the world,
The Prince and the Showgirl
was not a particularly good film that did wonders to the careers of either Marilyn Monroe or Laurence Olivier, and neither did Colin Clark become a legendary director, though he did make some excellent documentaries for American television. This film is definitely not like
Coco and Igor
, where a brief but intense personal relationship between two luminaries inspired great art.
But for that one week (according to Colin Clark at least), the American starlet learnt something about acting, the British veteran stage actor learnt something about the magic of the cinema screen and experienced first-hand the captivation Marilyn could cast when she does get her lines right, and Colin Clark had the week of his life becoming an all-in-one minder, security blanket, and boy-toy for the doped up, vulnerable, and insecure star.
Working for such limited material – Clark's account is virtually uncorroborated and it does tell a snippet of a story from the point of view of a very bit player in the scheme of things – the film understandably does not illuminate much on either the careers and personalities of Monroe or Olivier or offer penetrating insights into filmmaking. Quite like a reverse of a biopic, your knowledge of history will serve to illuminate your understanding of this film.
The strength of
My Week with Marilyn
lies in how it brings Clark's fly-on-the-wall narrative to life, animating initially empty film sets with the hustle and bustle of behind the scenes goings-on. Michelle Williams and Kenneth Brannagh shine in this film, delivering performances that mimic the on-screen and off-screen qualities of Marilyn Monroe and Laurence Olivier down to a tee.
My Week with Marilyn
fully deserves all three Golden Globe nominations and should be an Oscar contender later this year.