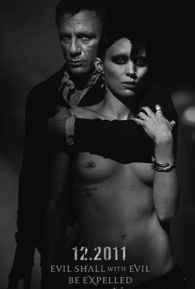 As a fan of the original version of
The Girl with the Dragon Tattoo
and among those who found it among that year's Best, I did approach the idea of a remake with some trepidation. How was one ever going to surpass that film's watertight storytelling? Not even a director like David Fincher could put me off that. The beauty of Niels Arden Oplev's film is that even if one discounts the mediocre sequels, his storytelling is a shining example of control and economy.
The story for those who have yet to hear of it, is an adaptation of the late Stieg Larsson's detective novel with a unique heroine: the pierced, tattooed, highly intelligent yet socially maladapt genius hacker Lisbeth Salander (Rooney Mara), who teams with bankrupted investigative journalist Mikael Blomkvist (Daniel Craig) to basically solve an Agatha-Christie style mystery on an island in Northern Sweden, inhabited by a powerful, secretive billionaire family with ties to the Nazis during World War II. Something is rotten in the state of Sweden, and these two having faced it all their lives, are out to take it down.
David Fincher's film in large part follows the same roadmap as Oplev's, but he and screenwriter Steven Zaillian make it their own by placing a different stress on key scenes to emphasize different aspects, as well as making major changes to the ending and the resolution of the mystery.
Fincher has still made a pretty good film, though. He makes some stellar cinematic decisions, is a better director than Niels Arden Oplev, and comes up with more than a share of good scenes and even a few great scenes. The slick opening credits are for example, some of the best I have seen yet. The flashing sequence of images: human figures swimming in black liquid, hornets, flaming skulls, computer keyboards and wires flash across in a disturbing little montage and brilliantly capture everything you need to know about the film and its sequels, as well as fuelling you in preparation for the film that is to come. This level of technical precision continues well throughout the film: Jeff Cronenweth's camerawork brings out the cold inhospitality and gentle beauty of Sweden. Knowing that he possibly cannot improve upon the original's watertight storytelling, Fincher opts instead to make up with detail and nuance to transcend the airport-read origins of his material.
The cast are game troopers but casting problems remain: Craig is for one too athletic-looking to play what is supposed to be a courageous, intelligent part who's not macho. Rooney Mara's Salander is spectacular: though both she and the original actress, Noomi Rapace bring different things to the role. Rapace is angry, surly and snide. Mara is more menacing and ghostlike.
The most distracting single element of the film's mise en scene however, is what I call Hollywood Europe syndrome. By which, I refer to a phenomenon by which Hollywood films set in non-English speaking countries starring an international cast will feature most actors trying to adopt their best version of the Native Accent. Equally distracting are the mix of languages in the production design: signage is Swedish, but newspaper headlines, Bibles, television news captions, and closeups on computer screens are in English. It may be convenient but just feels and stands out as incongruous world-building. It can work in fantasy and costumed period films, but for a realistic crime thriller, it feels off-putting.
Still, if a film were a journey, to continue the roadmap analogy before: I'd say that Fincher takes a more scenic route than Oplev and arrives at an unexpected yet beautiful destination, while Oplev may take a less scenic route but at the end of the day one feels that his journey is very satisfying nonetheless. I ended up liking both movies. There's a few flaws in Fincher's version and I'd hesitate to call it among the year's best but the good parts more than make up for it.