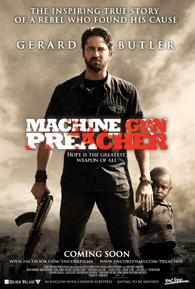 In
Machine Gun Preacher
, Gerard Butler is cast as some sort of comic book character – a former drug abusing member of a biker gang with ultraviolent criminal tendencies who finds God, turns into a respectable civilian contractor, and now fights a one-man armed crusade that saves orphans kidnapped by the Lord's Resistance Army in South Sudan as well as kills members of the said army in cold blood.
Machine Gun Preacher
, incidentally, is a name conferred by his members of his private militia and the children he saves. And yes, they all live together in one of those humanitarian projects he builds – an orphanage, playschool, and an army barracks all rolled into one.
Machine Gun Preacher
takes us through the genesis of this messianic comic book character, chronicling his days as a wild man to his conversion to religion and then his conviction to the cause of saving orphans in Africa. It's a wild and bumpy story and Gerard Butler fleshes out the conflicting saint-sinner, psychopath-saviour complex of the Machine Gun Preacher.
As morally offensive as this sounds as a premise for a film and as much of a nutjob Gerard Butler's character comes across already, you should not be shocked to learn that this film is based on the real-life Sam Childers, who in a personal appearance in the end credits, appears more chilling and psychotic than this film makes him out to be.
And as offensive this film may come across, its makers seem determined not to cross the line. We would have liked to see the inherent dark comedy of Machine Gun Preacher - for all purposes a warlord himself - gunning down squad after squad of the LRA, whose members are mostly kidnapped children who serve the army quite willingly and partake equally of the violence, all while trying to save the children kidnapped by the LRA!
The film plays like an unconscious extension of one of the darkly-humoured ballads of the late Warren Zevon,
Roland the Headless Thompson Gunner
, about a Norwegian mercenary who backed the wrong side in the Congo Civil War and had his head blown off by the CIA. One can also see it as a spiritual sequel to
A Clockwork Orange
, where the droog friends of Alex turn up as jolly coppers or
The Imaginarium of Dr Parnassus
, where the titular trickster attempts to save the souls of some Russian mobsters by appealing them to channel their taste for power and violence into law enforcement. Unfortunately, the direction and writing ultimately do not live up to the dark and comic potential of its source material but should be entertaining to watch – though it's not quite in the calibre of Craig Brewer's intentionally offensive but fun
Black Snake Moan
and
Hustle & Flow
.