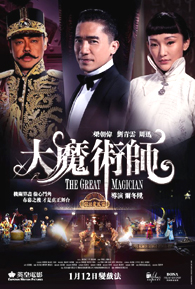 The Great Magician
is a rare Hong Kong film that is actually as clever and deep as it appears and does it without foreshadowing and spoonfeeding on one end and overdramatic posturing on the other.
The template of Derek Yee's tale is simplistic. A man (Tony Leung) betrothed to his childhood sweetheart (Zhou Xun) returns as an accomplished magician but finds her a literal captive of the attentions of a far more powerful man, an arrogant commander of armies (Lau Ching Wan) – and an entertaining game of deception begins, pitting a comically inept but powerful warlord against a ingenious artist whose only real power is his ability to fabricate illusions.
It would not be too wrong to say that Yee has transported 2006's
The Illusionist
to China's post Yuan Shikai warlord era and mashed it with Michael Hui's 1972 farce
The Great Warlord
.
In the midst of the comedy which ranges from a hare-brained plot about an ancient magic manual, a even more hare-brained plot to kidnap the warlord, a double ploy by both illusionist and warlord to gain the love of their love interest, and a rather badly made film-within-a-film produced by the warlord, the writer-director's excellent script also reminds us that the "prestige" is not just an integral part of a magic act but also the indispensable feature of a confidence trick; the ingredient that puts the politics in political theatre as well as the magic in films.
The Great Magician
is extremely well-written, thoughtful, cohesive, and disciplined despite the farcical nature of its comedy and that makes it one of the rare gems in the past 20 years of Chinese film. It is also a rare showcase of comedic talent by Leung and Lau, who are both more known for their dramatic and serious roles.