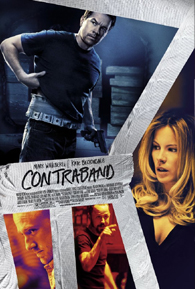 It looks like these two years will be the year of the Viking invasions, other than Hollywood's remake of
The Girl With The Dragon Tattoo
, Swedish director Tomas Alfredson (
Tinker Tailor Soldier Spy
), Danish Nicolas Winding Refn (
Drive
) and now Iceland's Baltasar Kormákur are all making their ways onto the big screen.
Though not Kormákur's English debut,
Contraband
is his first major studio picture, and displays his fascination with the medium of Film Noir that has always accompanied him since his earlier indie films like
A Little Trip to Heaven
, which featured a great performance from Forest Whitaker as an insurance investigator in over his head. Kormákur is interested in character studies of men whose vocational amorality tends to be jeopardized by their personal ethics, and it continues here.
Set in just possibly the coldest, darkest looking New Orleans I have ever seen on film,
Contraband
revolves around reformed ex-smuggler Chris Farraday (Mark Wahlberg) who has since become an expert in home security systems, settled down into a comfortable bourgeois life with his wife Kate (Kate Beckinsale). He is drawn back into the life he thought he abandoned in order to save Kate's brother Andy when the latter's life is threatened by Briggs (Giovanni Ribisi) for a botched shipment, and has to pull off one last massive caper in order to save his brother-in-law, while rendering Kate to the protection of his best friend Sebastian (Ben Foster).
The caper differs in taking place nearly entirely at sea, and involves importing a massive shipment of fake money from Panamanian crimelord Gonzalo (Diego Luna) and entering New Orleans via a container ship captained by the crusty Captain Camp (JK Simmons) and accompanied by their intrepid crew. The plan is pretty simple, but as in Noir, nothing ever turns out as it should, and soon Chris realises that even Sebastian may have a few designs of his own...
Kormákur's film looks great, from the unusually cold and grey looking New Orleans streets and harbour to the flashing lights on patrol boats to the sweltering shanties of Panama, he and cinematographer Barry Ackroyd create a film drenched in atmosphere. Performances are all-round decent, especially the almost unrecognisable Giovanni Ribisi as the odious Briggs and Diego Luna as the scarily psychotic Gonzalo. Kormákur's direction is tight and intense; like most former actors he works with remarkable ease from his own cast, and paces his film so well that there is nary a let-up in the intrigues onscreen.
It is only two weeks into the year, and we already have a terrific thriller that may be one of the year's best. With this film, Baltasar Kormákur heralds himself as a Scandinavian talent to watch.