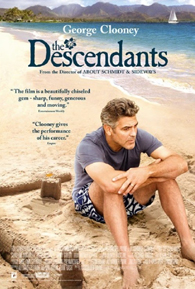 The central metaphorical image for The Descendants is a description that its main character Matt King gives about his family being split up amongst the islands of the Hawaiian Archipelago. Each family, he describes as similar to an archipelago, every man and woman an island unto himself or herself, yet invariably linked to the others. That gentle melancholy about the conflict between family, the individual, the public and the private is what marks the latest dramedy from Alexander Payne.

King is a real estate lawyer and a descendant of White and Hawaiian aristocracy, played by George Clooney in a variation of his troubled, irresponsible, bright yet way in over his head patriarch role from Fantastic Mr Fox. His wife meets up with a skiing accident and is in a coma, and he is getting ready to pull the plug after being informed her condition will worsen. Meanwhile, he receives news that his soon-to-be-late wife had an affair and goes out on a road trip with his daughters, 10-year-old Scottie and 17-year-old Alexandra, and Alex's boyfriend Sid, in part to get some quality time and in part to seek out just who the would-be homewrecker was. Meanwhile, the King family gets ready to sell off the last parcel of land entrusted to them.

Director Alexander Payne's previous two efforts About Schmidt and Sideways both utilized the motif of the great American roadtrip to explore the souls of lonely men of means against very specific regional United States backdrops. Like Payne's protagonists from those two films, Clooney's Matt King is a man who is not as self-aware as he thinks he is and knows less about others than he thinks he does, but neither is he alone in that aspect in this film, because we are quick to discover that rarely is anyone straight with anyone. In The Descendants Payne shows a specific interest not just the physical but also the emotional and mental isolation, often self-enforced, of human beings. Yet Payne as much as he expresses concern about this condition does not overlook its necessity. Payne suggests our self-enforced isolation built with walls of lies we tell each other and ourselves is how we come to grips with our attempt to fulfill the roles we believe we're meant to inhabit rather than those we are inhabiting.

That tragi-comic insight is present in the film's various characters and keeps The Descendants both insightful and modestly entertaining for the most part. Yet that same over earnestness frequently causes The Descendants to be a middling drama, with rare turns of grace, outrage, or surprise. Which is a shame because the few grace notes that Payne allows his script, which he co-wrote with Nate Faxon and Jim Rash based on a novel by Kaui Hart Hemmings, are well-performed by a game cast led by Clooney and new discovery Shailene Woodley, even if the manner in which they unfold tends to be predictable.

The Descendants is a Great Hawaiian Roadtrip worth taking, but still one gets the sense that the ride could have been a lot more. Right now it's good for about two hours of a gentle melancholy not unlike the mist which rolls down the sides of the Hawaiian hills.