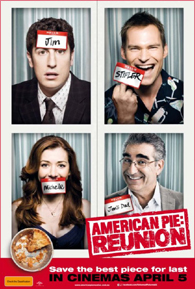 If Michael Apted were to make a modern version of his 7-Up films, he might well end up with something resembling the American Pie series. Consider the concept: the documentary maker follows a group of classmates and friends from age 10 onwards, dropping by every few years to take a sociological pulse on the generation that revived the sexual revolution, even if they didn't know it then. How sexualised are they? What is considered a normal sex drive for them? What crazy, improbable things do they do when they act out their hormonal urges?

It's been more than 10 years since the last American Pie feature film, giving us an appropriate excuse to drop in on the lives of the original cast. Again, we ask the same questions and expect to see some changes (and hence new jokes) in their replies due to the passage of time and the maturity that growing 10 years older should bring.

As it turns out, much has changed. The key cast has grown respectable in the world while their sexual appetites have lessened or grown more, either more vanilla or less adventurous since we last met them. But since it's their 10 year high school reunion so the cast are determined to relive the wild days of their youth. That's the gimmick. The twist (whether deliberate or not) is that they're mostly too mature to have irresponsible fun. The cognitive dissonance between the id and the superego drives much of the comedy in this film.

However, much of the effective comedy comes from the performance of Sean William Scott as "Stiffler", the residential walking id of the American Pie series. Older but none the wiser and still unencumbered by social norms and niceties, the character is the sole light in a film filled otherwise with predictable and limpid jokes and a curious insistence on referencing every other event from the series as though the audience is a bunch of 50-somethings in need of a nostalgia fix.

American Pie: The Reunion is average fare that should please fans of the series. We hope that further sequels would improve on it.