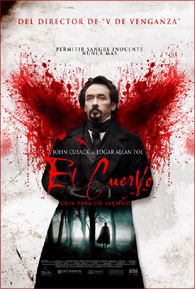 The highly literate Gothic mystery thriller mashup has been attempted before by the late Vincent Price in
The Abominable Dr Phibes
, where victims were dispatched according to the 10 plagues of Egypt, and
Theatre of Blood
, where a ham actor kills off his critics in Bard-approved methods while re-enacting entire scenes from his greatest plays.
The Raven
does one better than these two films with its gimmick. Gothic horror and thriller writer Edgar Allan Poe becomes an unwilling detective when a serial killer re-enacts several of Poe's short stories, leaving a gory trail of mutilated corpses behind. This shouldn't be an outstanding mystery film except that Poe is portrayed (true to life) as an abrasive drunk with an undisguised contempt for his contemporaries who, lacking hindsight, do not appreciate or remember his literary achievements. But the real twist that sets this film as a potential camp classic is how John Cusack seems to channel every fibre of an overacting, scene-chewing Nicolas Cage in his performance as Poe.
Script-wise, the film is above average for most of its length, feeling like a period B-movie version of
Se7en
as directed by a giddy Edgar Allan Poe fanboy who just wants to throw in as many references to Poe's short stories in the film so the audience has fun identifying them ahead of Poe and his investigating team.
The Raven
is fun to watch if you appreciate well-made films that are so intentionally 'bad', they are good. The way John Cusack impersonates Nicolas Cage's acting so perfectly is itself worth the price of admission.