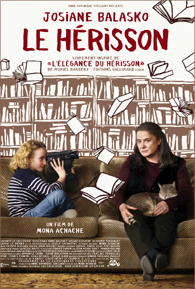 A precocious girl, a dowdy woman and a charming Wise Asian Man form the core of this film. Paloma (Garance Le Guillermic) is the young daughter of a cabinet minister who is preparing for the manner of her suicide, her dysfunctional family having finally pushed her to decide that she has seen enough of life 'in a fishbowl' not to want to live any more of it. Renee Michel (Josiane Balasko) is a concierge/janitor in the luxurious Parisian apartment block where Paloma's family stays. Ozu Kakuro (Togo Igawa) is an elderly, cultivated Japanese man who moves into the building and takes a fancy to Renee which may either be platonic, romantic or intellectual. Unknown to most, but a fact that slowly reveals itself to both Ozu and Paloma, is that despite her lack of social graces and her bland homely exterior, the widowed Renee in fact enjoys a rich inner life with a literary collection that consists of the likes of Tanizaki and Tolstoy, a fact that Kakuro is one of the first few to ever notice. The titular animal becomes the simile by which Renee is described: prickly and abrasive on the outside, but with a soft and gentle underbelly.

Based on Muriel Barbery's novel The Elegance of the Hedgehog, which featured lots of philosophical points and a far greater number of characters,The Hedgehog wisely pares it down to the relationship between Renee, Ozu and Paloma. The film is much in the spirit of films like Hunting and Gathering and The Women on the 6th Floor in its usage of the insular universe of a Parisian apartment block as the setting for stories about lonely people connecting with each other, The Hedgehog remains a superior example of this genre as a result of its great performances: the endearing Le Guillermic is both angelic and disturbed: projecting high sadness and deep vulnerability under her precocious veneer, and Josiane Balasko creates a portrayal of great inner strength and dignity and sharp intelligence to the role of Renee. Even more incredible given how far the characters could have fallen into eccentric tweeness not unlike Extremely Loud and Incredibly Close that they remain believable. Perhaps because unlike Loud, the eccentricities of the characters aren't forced down your throat as to make them manipulatively endearing, but the film instead slowly draws out their inner lives to involve the audience.

The most potentially annoying character, Paloma, is wisely slowly relegated to be a person of secondary importance, as the film focuses itself on the developing relationship between Renee and Kakuro. Kakuro becomes to Renee, a guide to the finer things about his culture and hers: Ozu's The Munekata Sisters, slurping ramen, frying gyoza and collector's editions of Anna Karenina are among the tokens that mark their blossoming relationship. Togo Igawa, a character actor known so far mostly for his bit parts (and to video gamers for his vocal work in Total War: Shogun 2) brings gravitas to his borderline stereotypical role as the film's resident fount of Oriental wisdom. Director Mona Achache directs with a light touch, never making anything too overblown or melodramatic and keeping the film's flow butter-smooth.

All this pretty much keeps you from forgetting the rather unsubtle points the film seems to make: We are all lonely. We are all vulnerable. Connect with people you care about. Cultivated aesthetic pleasures are wonderful. Read a lot. Draw a lot. Modern psychotherapy is bad. Death is terrible. The result is a charming and twee, occasionally grating, but still endearing little picture.