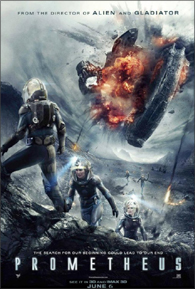 There is a story from early on in Ridley Scott's career where during the filming of Blade Runner, Scott asked former Stanley Kubrick collaborator Joe Turkel how Stanley would have filmed it. Turkel got pretty annoyed and told Scott that it was Scott's film and not Kubrick's, and he should film it his way.

That story comes flooding back to mind when Prometheus opens is that Scott seems not to have gotten over his love of Kubrick after all these decades, even if he has eventually made some of those trademarks his own. There is much to be learned from the late master after all: his use of long silences, creation of disquieting atmospheres and intelligent use of non-diegetic classical music remain to this day unmatched. Apparently trying to function as a condensed version of the opening of 2001: A Space Odyssey, Prometheus opens on starkly beautiful natural landscape where a giant spaceship is leaving, and a solitary figure in a monk-like robe walks alone in this primordial wilderness. Looking like something that might have resulted had the Michelin Man hit the gym often and took steroids, our solitary figure drinks some black fluid which apparently causes his entire body to disintegrate within minutes.

Then we are in the late 21st Century, and the elderly head of the Weyland Corporation (Guy Pearce, buried under layers of prosthetics to look like Dave Bowman in the final act of 2001) has sponsored an expedition led by scientists Elizabeth Shaw (Noomi Rapace) and Charles Holloway (Logan Marshall Green) to a distant planet to contact a race of giants that may have created and interacted with early humanity. The project is supervised by the cold, enigmatic Vickers (Charlize Theron) and consist of a crew featuring charismatic Captain Janek (Idris Elba), rough-hewn Fyfield (Sean Harris) and nerdy Millburn (Rafe Spall). Then there's the resident android David (Michael Fassbender), who is not just a shout out to Ian Holm's Ash from the first film but whose mannerisms and clipped deliveries also smack of Hal 900 in more ways than one.

Upon arrival at the planet, the crew discover a series of mounds that are clearly unnatural, and the identity of the giants may be found within in the stoic carved heads that bring to mind the ruins of the Olmecs or the sculptures of Easter Island. Still, what's the black goo that's all over the place and emanating from a series of strange canisters?

Clear connections and references abound not just to the Alien franchise, not just as the above paragraphs indicate in the visual shoutouts for long time fans, but also in the film's various calculated 'money shots' and repeated tropes replicating moments from Scott's earlier movie.

If the Alien franchise has come to be seen as each being a different genre in space, with the first being a haunted house movie, the second being a Vietnam War film, the third being a prison film and the fourth being a social satire of sorts, Prometheus attempts to be Lovecraft in space, a story in which humankind finds itself up against an intelligence that dwarfs itself alongside creatures beyond its imagination, though its ambitions are clearly a little beyond the still commendable talent of Damon Lindelof and Jon Spaihts. Spaithts and Lindelof's screenplay is tight and suspenseful and deals competently with its characters all played by a game cast (with Fassbender especially showing why he is one of the best actors at work today), but as a film of ideas its commentary seems a little too contrived and childish, especially in its conception of the giant race and its motivations, which appear all too human to be fully enigmatic or horrifying. Special effects though still show Ridley Scott's mastery of them, in choosing not to go for the now too common CGI overkill of making fake things look realistic , Scott moderates his use of CGI and uses a fair amount of models and paintings to build atmosphere and enhance his visuals.

The result though is still one of the more satisfying films of the year, a fairly intelligent science fiction film that is driven by ideas and suspense, and not jump scares and action sequences. It has everything needed for fans of the Alien franchise and just enough for newcomers to check it out.