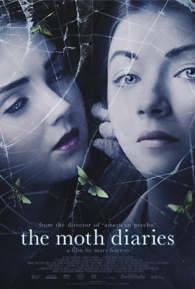 Five minutes into
The Moth Diaries
, the film lays down all its cards for the audience. Scott Speedman, in the role of a hunky lit teacher as well as the only living male character in an all-girls boarding school for the rich and screwed up, explains to a class of teenage girls what makes Gothic horror and particularly vampire fiction tick. There has to be sex, blood, and death.
Blood and death is a given, but the real horror about vampires is supposedly sex – the threat of female sexuality and implied lesbian relationships! He goes on to expound on Sheridan Le Fanu's
Camilla
, the earliest vampire short story written. The greatest horror is not when the vampire takes the life of her victim but when vampire obsesses over her victim, possesses her, takes over every aspect of her life.
Laying down all the cards this way, this early in the film may well be the mark of lazy writing or a concession that somehow, audiences these days prefer to have their thinking done for them. Either way, this short speech by Scott Speedman actually saves the writers the trouble of a long, muddling first act of the typical vampire narrative where you'd have to sit through the introduction of a mysterious newcomer who is so obviously a vampire that you actually get annoyed at her victim for trying to give her the benefit of the doubt.
So okay: the newcomer (Lily Cole looking like a real life Tim Burton animated character) is obviously a vampire who taunts her prime target, the popular queen bee Rebecca (Sarah Bolger) about her traumatic childhood, while stealing and seducing (and yes, in that way too) her BFFs and then killing them – because she really looks creepy and is so obviously enjoying it while flaunting her sheer evil while everyone else in the picturesque (and thus creepily decrepit) school doesn't quite notice it, while Rebecca slides into a spiral of paranoia, shrillness, and suicidal depression. This makes up the campy fun of
The Moth Diaries
, actually.
The Moth Diaries
is beautifully shot and well-written. Actually, a little too well-written to the extent that it shies away from being trashy and hysterical – the other two elements that would have complemented its inherent camp value.