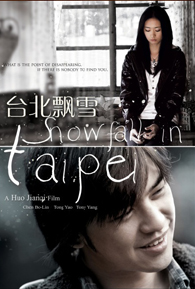 You'd be forgiven for mistaking
Snowfall in Taipei
for a Wim Wenders film, quite possibly the third film in a trilogy comprising of
Don't Come Knocking
and
Palermo Shooting
. As in these two films, a celebrity (this time round, an up-and-coming singer) afflicted with career jitters skilfully flees from her talent agency overseers and Taiwan's paparazzi squads, hitting the road to seek refuge – and possibly rediscover her place in the world – in a rural village in the north of Taiwan, accessible only by a rickety cross-country train that passes by once a day. If you've seen any Wim Wenders, you'll know that our heroine will find some solace and companionship with the denizens of the small-town locale, her story coinciding in some way with their own private dramas. And finally, you'd expect a low-key romance to unfold while the story goes big on local colour.
The fun in watching
Snowfall in Taipei
is to watch the film take the best films of Wim Wenders and retell them with the typical slightness of Taiwanese popular drama. Sure the key characters of the film struggle (albeit realistically quietly) with personal issues but the film's creators seem intent to drown their implied drama with a snowstorm of tweeness and easy resolutions that undermine their struggles and subsequent lessons. At least the cinematography is stunningly beautiful.
An artistically ambitious project,
Snowfall in Taipei
is one of those films that will be remembered for what it was aiming for rather than what it actually achieved.