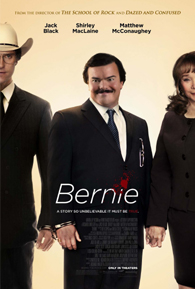 One of the most versatile filmmakers to emerge from the American Indie scene, Richard Linklater can always be counted on for strong character-driven storytelling and sparking dialogue, and this instance is no exception. A semi-documentary spliced with a narrative film about the now-convicted murderer Bernie Tiede, Bernie is a piece of morbidly funny Americana with its simultaneous affection and criticism of American eccentricities that would not be out of place in Mark Twain. Should that great man be alive today, he would be proud of this movie.

Bernie is at its heart a tale of two figures who are basically small town con men of sorts. Though small town con men who get away by making people feel good about themselves through their con actions (it's no surprise that a subplot in this film involves a production of The Music Man). The titular character is a funeral director in the small town of Carthage, TX who seems to have a multitude of talents, from singing in church to cooking to coaching Little League to helping others with their tax returns and open acts of charity. He seems too good to be true, so nice is he that one wonders if his whole life is an act of subconscious desire to gratify the townsfolk he lives with. There's also the possibility he could be gay. Then again, he could have been celibate, as was Jesus.

So when he becomes the close friend, constant companion and confidante of the town's rich, mean widow Mrs Nugent (played by a still great-looking Shirley MacLaine), it comes as a shock that such a friendship would result in Mrs Nugent's murder. Hell, half the town wanted Mrs Nugent dead anyway, and her time was just about near, but still, murder is murder, and it's up to Danny 'Buck' Davidson (Matthew McConaughey), the District Attorney for the Sheriff's Office, to save the day by putting Bernie behind bars even as the town seems to protest the well-liked man's innocence. Davidson is as much a schemer as Bernie, a capable man of wit and guile who has likewise styled himself as a sort of modern day folk hero and seems to inhabit that role as comfortably as a good ol' boy with a ten gallon hat.

Both these con men are played with two of the most divisive actors working today in two of their best performances. Jack Black more than anywhere else, indicates his depths as a performer by showcasing his multitude of talents too often lost underneath his familiar ingratiating ham persona, except that Bernie by his nature as a con man is pretty much an ingratiating ham, so the role is pretty much a perfect match of casting and character. Black also shows a level of heretofore unseen subtlety in his differentiation between Bernie the persona and Bernie the man. There are moments where you get glimpses of the real Bernie under the persona that Black flashes with perfect timing. Likewise Matthew McConaughey, an actor who emits such a smarmy air of politeness alongside his dashing good looks that he seems born to play lawyers, is also perfectly cast as a schemer who inhabits the role of a modern day folk hero so perfectly he can't seem to be able to tell any longer which is which and yet enjoys it.

Linklater's decision to combine interviews of real townspeople (including Matthew's own mom, Kay McConaughey) with the narrative film for a semi-documentary feel allows his universe to come to life with remarkable warmth and humanity. This is a film that's remarkably buoyant and optimistic in that classic American fashion despite its potentially dark subject matter. Then again, the small-time con man as a figure in American comic literature than is by definition an embodiment of cultural optimism: what can be more optimistic about human nature than a figure who inadvertently does good for others, even as he advances in life by operating from what is fundamentally a base of mendacious self-interest?