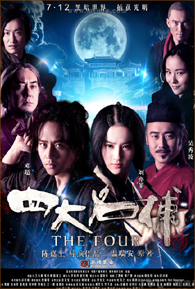 This is one of those movies that frustrates from frame one. The title in Chinese is 'The Four Great Constables'. So when you see this movie you want to look for the Four Great Constables.

So, it opens with a poor man's John Woo bird's eye view, we follow a pigeon as it flies across a section of the Imperial Capital only to end up with a group of female martial artists reporting for duty at Section Six, which is one division of the Secret Service operating in the capital, sort of like ancient China's FBI. There's more than four of these women. So wait, are they the four great constables?

Following that there's a setpiece involving a raid inside a tavern, where the Section Six representatives seem to be on the trail of the same case of counterfeiters as three other people named Emotionless (Liu Yifei), a girl in a wheelchair with psychic powers able to detect others' kungfu abilities, Iron Hands (Collin Chou), a reformed murderer, and Lifesnatcher (Ronald Cheng), who as the name implies is a former bounty hunter. They're overseen by the elderly Zhuge (Anthony Wong). Wait, so who are these guys again and what's their relationship to Section Six? There's only three of them and are they The Four Great Constables?

That question remains frustratingly unanswered as soon the investigations lead to the too-early reveal of the bad guy, one Lord An. He is wealthy, surrounded by beautiful women, up to date with the latest technologies (or in this case, various superpowers he has acquired from studying Middle Eastern sources) and a scheming mastermind with the elan of a Goldfinger or Blofeld. In public he behaves as a rich twit as a front for his evil schemes. Like Spectre, his organisation has far reaches into the upper realms of the Imperial elite, and is a front for his plan of conquest.

So, where are the Four Great Constables again?

Well, it's more than half an hour in when Coldblood (Deng Chao), a member of Section Six, is transferred by his superior to the Divine Constabulary. Coldblood is a lonely wandering swordsman type who hulks out when he is put in rage, a power that he displays but twice in the film, but never again. It is only now that we realize that the three agents of the Divine Constabulary plus Coldblood are the Four Great Constables.

I wish to rest my case here if all that does not sum up the movie's flaws as a whole. I've never liked Gordon Chan to begin with and here's why. While not exactly a Hong Kong Ed Wood, he's a director with so little sense of storytelling or pacing that despite years in the industry and a string of hits to his name, he remains susceptible to storytelling flaws that would not get past first year film school students. He begins and ends scenes in the wrong places, reveals plot points at the most inopportune times, draws his characters poorly, and paces his films without much in the way of forethought or buildup. In a way that makes even his films at their best, rather frustrating pieces to watch.

The Four continues his streak of legendary incompetence.