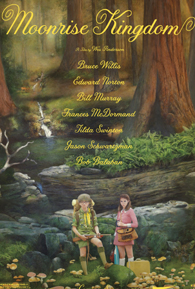 Moonrise Kingdom is a beautiful evocation of that twilight between the moment when girls stop being icky to you and start being Goddesses at whose knees you end up begging. It's a movie about a pair of New England pre-adolescents that plays itself like life imitating a genre film as viewed through the imagination of a twelve-year old, complete with rules that don't quite obey the laws of conventional physics.

Or in this case, the eccentric, pastel, nostalgic, miniature-like stylings of Wes Anderson. Since his breakthrough in Rushmore, Anderson's trademark has been a distinct Americana that combines volumes of his nostalgia for the styles of the 70s bathed with a simultaneous sense of gentle melancholy and lovingly framed yet imperfect lives. The emotional distancing of his framing draws your attention to his diorama-like artistic compositions and deep landscapes, while he allows his larger-than-life emotions of his characters to come forth even more evidently due to his distant, deadpan nature of his compositions. With his stop-motion Fantastic Mr Fox though, Anderson has moved into a more ambitious stage of his career, which seems to revolve around a highly sophisticated form of genre parody; in a way he has stepped into making full genre films (Fox was basically a heist comedy that largely took its imaginative framework from Kenneth Grahame and John Cheever rather than the Roald Dahl original) but using his highly distinct form of nostalgic whimsy.

Moonrise Kingdom probably represents his best marriage of mise-en-scene with theme since The Royal Tenenbaums. Taking place on the imaginary New Penzance Island somewhere in New England during the 70s, the story revolves a pair of puppy lovers who go missing. Sam (Jared Gilman) is a Khaki Scout who lives at the Billingsley Home for boys after his family died, and is generally alienated or bullied by his seniors who all seem to have popped out of the pages of an S E Hinton novel. Kara Hayward plays Susan, who is an equally troubled and friendless girl prone to fits of violence who however has become very much a muse and goddess in Sam's eyes and who is much attracted to Sam's loneliness and orphan background, both of these pre-teens decide to vanish simply into the woods of New Penzance Island.

Of course, a manhunt begins for these two lost children who in fact don't want to be found. Scoutmaster Randy Ward (Edward Norton) dictates the events with utter seriousness into his Scoutmaster's diary as he pursues his missing charge with dogged determination and caring, like a veteran cop concerned about a young rookie gone rogue. Meanwhile, the brilliant stunt casting of Bruce Willis is put to good use as the erstwhile square-jawed Everyman of action films is now a cop pursuing this pre-adolescent New England Bonnie and Clyde (yes it's not far fetched a comparison, those who pursue them do get hurt, just observe the fates of some who do), while staying a sad, somewhat unfulfilled man on the side having an affair with Susan's loud, dominant mother (Frances McDormand). The combination of his human vulnerability with the action-hero brio with which he delivers his lines and orders is genius. Anderson regular Bill Murray again shines as Susan's deadpan, withdrawn father.

The preadolescents' courtship is charted with sweetness and whimsy, and the performance by both young actors perfectly captures the feel of living on the cusp of adolescence in their steadfast innocence accompanied by no less a curiosity to head into experience and knowing what 'grown-ups' behave like while holding back just that little from the edge.

When these two lovebirds are found out, a race against time ensues to keep them from being forever separated, and the second half of the film then becomes a parody of World War II escape films, with Sam's scout troop as the usual 'guys on a mission' team. It's here that Anderson really plays his sophisticated form of genre parody to the hilt, evoking classic World War II B-movies through his whimsical childlike eye to achieve a feel that is decidedly delirious. Though what can be more fitting than evoking the tropes of genre film in depicting the fierce, operatic, larger-than-life emotions of pre-adolescence? It all builds to a climax that is truly hilarious and sweet at the same time.

Running a lean hour and a half, Moonrise Kingdom is another worthy trip into Wes Anderson's gradually expanding Inland Empire. I for one, can't wait to go back.