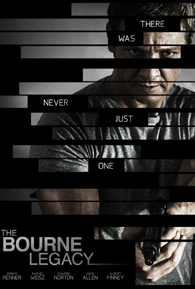 The Bourne Legacy is one of those movies that seems to import the name of an existing franchise into its title just so that it could earn a few bucks off the fanbase of that previous franchise. On its own it could basically exist as a separate script story, given its clichéd and oft-seen setup and premise.

The storyline is as basic and bare-bones as they come, even if it takes more than half an hour of exposition for newcomers to the franchise to finally get to it. Basically a series of operations at the CIA, with codenames Blackbriar and Treadstone, have been exposed by erstwhile hero Jason Bourne (seen here only in files and newspaper reports), and a secret department within the CIA led by Eric Byar (Edward Norton) is attempting to off all the field operatives that have been part of a separate programme, 'Outcome', before any Senate hearings unearth the programme. Can't let something like democratic checks and balances get in the way of saving the world for freedom after all, get what I mean? Especially given Outcome has become more successful than other programmes in producing…a genetically enhanced group of super secret field agents with superior strength and intelligence!

Yes, with that hoary old premise underway, the new plot revolves around this new agent by the name of Aaron Cross (Jeremy Renner), who we see early on engaging in some wilderness survival programme in Alaska and battling the elements in a training montage. Cross you see, has been faithfully taking his medication, and we'll soon find out why when he soon becomes a near-victim of a drone bombing as a result. He's gonna need all his wits, medically-enhanced or not, to survive. He soon falls in with the obligatory female character, scientist Martha Shearing (Rachel Weisz); the survivor of a lab shooting by what appears to be a deranged colleague but whose involvement in Outcome has made her a target to be silenced.

Most of the film thus takes place as one long chase across various action setpieces of varying quality, from tense shootouts to car chases to a final motorbike chase all the way across Manila while being pursued by that ubiquitous Hollywood villain, the inscrutable silent Asian henchman. All of these are well-shot and edited and action fans will find plenty to love though everyone else might be bored to tears half the time. Despite their thinly written characters, the film barely floats by based on the strength of Renner and Weisz, who are arguably two of the best actors at work today, and who give their sketchy characters some pathos and gravitas.