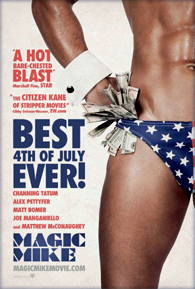 See how far Steven Soderbergh can take his new philosophy of stunt casting and where that philosophy can take his films? Sure the director cast porn star Sasha Grey in The Girlfriend Experience, an MMA champion in action flick Haywire. But perhaps the most audacious move from Soderbergh is casting Channing Tatum, who did start out in real life as a 19-year old strip dancer, in a film about strip dancers. Aside from obvious titillation (Mr Tatum still has an incredible physique that Hollywood romcoms love to show off when they run out of things to say), Soderbergh's film provides his usual documentary-like approach to telling stories.

Between several risque routines (all brilliantly choreographed) where members of the Xquisite Club in Tampa dress up as soldiers, firemen, cowboys, and other male stereotypes popularised by The Village People, the head of the operations Dallas (played by Matthew McConaughey leveraging on his smug asshole screen persona), schools the newcomer "The Kid" (Alex Pettyfer) whom the titular "Magic Mike" (Channing Tatum) ropes in, that male striptease is all about fulfilling fantasies of married women and happily engaged girlfriends. Male performers take on the role of the ravishing husband they never had, the jock they couldn't ask out for prom, the one-night guilt-free stand, the full-body lap dance. These women scream with every article of clothing dropped. They pay to touch the men's unreal bodies, pay for a few minutes of their time at the bar, and pay substantially more for slightly more private parties. And their dreams and lusts fulfilled in a very legal manner, these women can go home to their less impressive husbands and boyfriends, guilt-free because it's not cheating on them.

Visually, Magic Mike is not a difficult film to sit through. The story is also simple to follow: the initiation of "The Kid" by "Magic Mike", the newcomer's discovery of a new set of possibilities that come with this new life and the darkness behind the shiny facade of this alluring lifestyle. To Soderbergh's credit, his directorial sensibilities ensure that the story ends up far more sympathetic and less judgemental than one would expect — and that what's depicted is more or less true to life and highly entertaining at the same time.