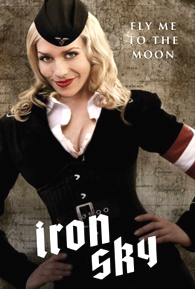 Those whom the gods destroy, they first make mad. But in the film industry, those who are marked for career destruction are first made successful and rich. The joke goes that the best directors in the world at any given time are those who operate on a shoestring budget or under some repressive censorship regime, or both — and the worst or most disappointing directors are those who, having previously encountered initial success as independent filmmakers on a shoestring budget, are suddenly offered lavishly funded studio projects. We wouldn't want to name names here but you probably have a list of your own.

Perhaps one rare filmmaker to escape this curse is Tomo Vuorensola, who broke through in 2005 with fan parody feature film Star Wreck: In the Pirkinning, which was as guerilla and independent as you can get. It was produced by just five people with a budget that wouldn't have bought a modern Chaplin any shoestrings, starred a volunteer cast who shot their parts against bluescreens all over the world, and funded by many small, individual online donations — way before Kickstarter was invented. Now Star Wreck is no great piece of art but like all guerilla filmmaking, it's far more creative, entertaining, and heartfelt than professionally produced films.

Iron Sky is from the same team that made the Star Wreck films, and also stars quite a few stalwart amateur actors who have stayed on with Vuorensola and his team. Armed with a slightly bigger budget of $11 million, the film is a parody and homage to 50s B-grade sci-fi films about Nazis like The Boys from Brazil, They Saved Hitler's Brain, or Werewolf Women of the SS (if Rob Zombie had turned his parody trailer into a feature film). At the same time, it's also a wickedly sharp satire of American culture and politics in the vein of Idiocracy.

Here, the premise is "Nazis in Space". The Third Reich may have been beaten but a small colony exists on the dark side of the moon, biding its time to take back the planet with its superior space age technology (which sadly hasn't caught up with modern engineering advances). Against the backdrop, Vuorensola throws in every joke to skewer Nazis and Americans alike. With the invasion taking place on the eve of a presidential election with Sarah Palin clone running for re-election, American politics and politicians in particular get as many pies thrown in the face as their German counterparts in this film. In fact, the digs at American politics seem to take over as soon as the Space Nazi jokes start to wear thin after getting milked dry after the first act. That said, the gags in Iron Sky come fast and furious, with far more hits than misses.

It's fair game in equal opportunity Iron Sky, which honestly just wants to make fun of the absurdity in politics, culture, and science fiction films in general.