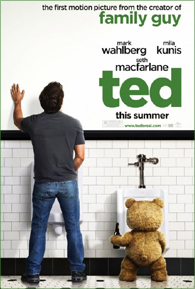 The gimmick in this bromance vs romance comedy is the bromance pairing features a man-child and his teddy bear. Not just any teddy bear but a walking, talking teddy bear who magically came alive one night and stuck with its kid owner and grew up together from childhood, teenage years, and adulthood. That means when the film opens, both Mark Wahlberg's man-child protagonist and his foul-mouthed teddy bear are irresponsible underachievers who put in time at work so they can smoke pot, crack jokes, and watch bad 70s movies on Netflix after work. Mila Kunis fills in as the girlfriend who puts her foot down and tries to negotiate an end to the unhealthy relationship between one man and his furry partner.
But that's just the gimmick for
Ted
. With Seth MacFarlane at the helm, you can never be sure if the actually funny trailer you've watched in cinemas for months are a product of deft studio editing imposing coherence, structure, and form to the free-wheeling, almost disassociative style of comedy the creator of
The Family Guy
is known for.
As it turns out, Ted doesn't run out of steam and laughs, with MacFarlane's willingness to throw joke after joke at the audience. That said, I'll have to qualify that the central gimmick of the film doesn't actually sustain the film at all. Unsurprisingly, there are only so many jokes and situations one can come up with about a foul-mouthed teddy bear and its over-aged man-child owner. These are mostly genuinely funny and so politically incorrect hits. Once MacFarlane's film runs out of steam from that source, he reverts to the kind of comedy routine that made him famous — inserting endless pop culture references into as many one-liners as possible. These, apart from a long-running Flash Gordon gag, are mostly misses.
Yet the funniest gags in
Ted
come from a storyline that's not about the relationship between a man and his furry friend, or about pop culture references. There's a creepy man who dogs Ted's owner throughout the film and would pay anything or do anything just to give that bear to his rather creepy son. The duo, with their nefarious scheme to rob a child (albeit overgrown) of his teddy bear, probably escaped from a John Hughes kid movie. They are probably the best pop culture gag in the film, and the only one that matters. In my mind, this storyline and its resolution saves the film from a strong beginning that runs out of steam and a middle that suffers from the worst of MacFarlane's undisciplined and meandering style.