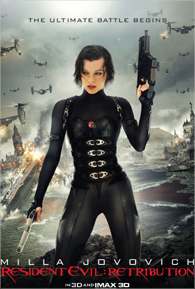 Dear moviegoer: Hollywood demands your loyalty. When it comes to superhero films, do you pledge allegiance to DC or Marvel? How about animation — does your wallet belong to Pixar or Dreamworks? When it comes to films that look like video games starring hot action women in latex suits, directed by their visionary husband-directors, the choice is even more stark: Resident Evil (or Biohazard, as it's known in Japan) or Underworld?
By now, most action/sci-fi fans would prefer a plague on both houses, with complaints of trashy screenwriting and poorly justified sequels in both franchises. For the Resident Evil franchise itself, it was either not true to the mythology of the ongoing video game series, or that it placed too much emphasis on videogame-style action interludes and made highly visual cinema but poor storytelling.
In
Resident Evil: Retribution
, Anderson finally shows the directorial and writing talent he's been keeping under wraps since Event Horizon. It actually plays like a smart, cinematic film more than film adaptation of a video game series — and it's quite good this time round even as a film adaptation of a video game series.
The entirety of
RE: Retribution
is structured as a prison break film where Jojovich's Alice is aided by a team of professional saboteurs who are determined to break her out of captivity from an Umbrella Corp facility. This prison is a vast chain of linked gigantic underground complexes that simulate Tokyo, New York, Moscow, and Suburbia. Sound stages in the film, but actually shot on location, so we'll give Anderson points for being brilliantly funny here. So the prison break is effectively like playing different stages of a video game, with completely different 'locales' covered. More points for Anderson for this in-joke. And even more points for him for structuring each stage of the prison break as a battle with the actual zombies and boss creatures from each Resident Evil/Biohazard video game.
Now that's not to say that this Resident Evil film feels more like a video game — though fans of the game series have been waiting for this moment. With segments of the film visually and narratively evoking the original
Tron
and
Alien: Resurrection
, you realise that for once, Paul W S Anderson has provided a coherent, cohesive, and interesting look and feel for a film franchise that used to be known for stitching together exhilarating fight sequences between Mila Jojovich and zombies in 90 minutes flat.