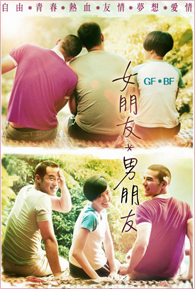 Despite being the most liberal and democratic nation-state that Chinese have ever dominated, the myriad problems of Taiwanese society in recent years seem to imbue Taiwanese cinema with a nostalgia not for its not so recent past of military dictatorship, but for that moment when it seemed freedom meant that people might be able to take charge of their own lives instead of being faced with massive college-age unemployment, competition from China, and a bleeding of the country's once vital economic sectors.

Girlfriend Boyfriend seems to be a placebo for the nostalgia for that precise moment first of all, and a gay-straight love triangle second. The very loose love triangle is that of Liam (Joseph Chang), Mabel (Gwei Lun-Mei) and Aaron (Rhydian Vaughan) and follows them from their days as students in the late 80s, their professional lives in the 90s and their eventual destinies in the 00s. Liam is gay despite his unsuccessful attempts at trying otherwise, Mabel and Aaron are straight. Liam likes Aaron, Aaron likes Mabel, and Mabel likes Liam.

Growing up in the 80s, all three are involved to some extent in pro-democracy movement, selling 'banned magazines' on the streets after school among their other pursuits. Mabel and Aaron though fall for each other (somewhat ambiguously) via their shared participation in a minirevolt at their military dictatorship-run school in the 80s, which becomes a training ground and a microcosm of the student democracy movement that will take place by the early 1990s.

The film works best in the nostalgic bits of the 80s: production design is excellent, and the sights, sounds and feel of Taiwan's 80s are brilliantly evoked. The high point of the film is a giddy setpiece when the student body of our heroes' high school rises up against their powerless teachers and disciplinarians in a carnivalesque expression of liberty.

It is as it segues into the early to late 90s that flaws become visible (in part from Taiwan's already changed skyline) and the film loses its dramatic focus: Aaron and Mabel settle down into an off-the-books relationship as Aaron is married to the Chairman of the Legislative Yuan's daughter, while Liam goes from one gay relationship to another in a fruitless and seemingly aimless pursuit.

For a film that is about a love triangle, the film mostly skews off on many rather fruitless and strange tangents and does not seem to articulate what might turn out to be a fascinating examination of gender, sexuality and love, and how they intersect in the formation of human relationships. How much of sex is present in love, love in sex, and sexual orientation in love? The movie doesn't answer any of that, but instead sticks for some evocations of nostalgia for Taiwan in the late 80s and early 90s. The male leads are serviceable, with Gwei Lun-Mei proving again with her naturalness why she is one of Taiwan's best young actresses.

Despite beautiful cinematography and a nostalgic soundtrack, the weak script keeps this movie from being satisfying narratively, and perhaps it never intended to be. At its best Boyfriend, Girlfriend functions as a piece of Taiwanese nostalgia that shirks examinations of love, gender and sexuality in favour of plain sentimentality.