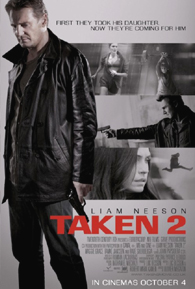 There's a joke that doing the same thing over and over again and expecting different results is the very definition of insanity. Its corollary is this: doing the same thing over and over again and expecting exactly the same results is how we define a Hollywood sequel.
The gimmick in the 2008's
Taken
was the repudiation of the Total Action Film concept which has served as the template for Hollywood's actioners since the 1980s. Security specialist Bryan Mill's daughter was kidnapped by a Balkan sex slavery ring, so he hunts them down, beats them up, and kills them in his bid to locate and save his daughter. In that sense, it's an action film. But Liam Neeson does all that without cracking one-liners. The fights may be extremely one-sided but they're slick, deadly, and devoid of cartoon violence. Given that no one does action films like this any more (aside from the occasional "serious" Bond films), it's understandable why Liam Neeson was catapulted to action star status after
Taken
.
Taken 2
promises more of the same, though it's not quite a retread of the first story. Set immediately after Bryan Mill single-handedly kills off an entire Balkan sex trading ring, their weeping families and grizzled elders in a picturesque village vow bloody revenge on Mill. While the Mills family holidays in city of Constantinopole/Istanbul, the gangsters (led by scene-chewing veteran Serbian villain specialist Rade Serbedzija) will attempt to kidnap Bryan Mills, his wife, and his daughter in a bid for vengeance. Needless to say, their best laid plans go awry and very soon, even a kidnapped and bound Liam Neeson will end up doing what he does best — hunting them down and killing them!
Coming from the original
Taken
, the sequel is largely a carbon copy with enough differences to justify the price of a movie ticket. The gimmick here is that for half of the film, Bryan Mills is kidnapped and it's his daughter who must hunt the gangsters down and save him. The film can only be better if it showed in more detail how a bunch of doddering grandfathers and village cousins of the original sex slavery ring presumably killed a lot of people in their own bid to hunt down and kill Mills.