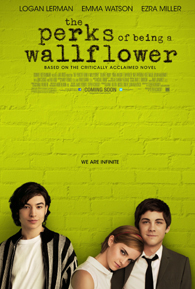 Before we start this review, allow me to introduce the word of the day: Odtaa.

This word was coined back in 1926, British writer and one-time poet laureate of England John Masefield (you may know him by the famous Sea Fever: "I must down to the seas again, to the lonely sea and the sky...") wrote an adventure novel with the title Odtaa. The most intriguing thing about the book was its enigmatic title, which had nothing to do with any person, place or thing in the entire novel. Masefield finally admitted that the word was an acronym for "One Damned Thing After Another". The whole novel's plot was all about the hero trying this, the hero trying that, the hero trying the other thing but failing, hero trying the other thing again in greater detail, hero succeeds.

And "Odtaa" could well be an alternative title for The Perks of Being a Wallflower. This is one of those movies where there's so much plot pulled together enough for a miniseries, or at least the first season of a TV show, that neither of the stories within it is told really well. The film starts off promisingly enough, as basically a bildungsroman about introverted bullybait loner Charlie (Logan Lerman) who as a freshman at his high school, falls in with a couple of senior-year eccentrics who become his friends and extended family, he also finds a friend of sorts in the kindly, wise teacher Mr Anderson.

These eccentrics are led by Sam (Emma Watson) and her stepbrother Patrick (Ezra Miller). Together, over the course of the film Charlie will get stoned, get high, get on acid, make mixtapes, do Rocky Horror re-enactments, end up with another girl even as he carries a torch for Sam. To add on, there's the gay Patrick's closet affair with a jock and Charlie's sister's (Nina Dobrev) relationship with an abusive boyfriend, and ongoing flashbacks to some trauma that happened in Charlie's past that may or may not affect him again in the future!

The script never rises beyond this rather jejune, self-indulgent level of melodrama with the plot acting as an apparent clothesline for Emma Watson and Logan Lerman to show that they have potential beyond just doing fantasy epics by pouring their entire souls into their laboured performances, while the script juggles a dozen themes without engaging in any of them ever sufficiently to be moving. In terms of performances, it's Ezra Miller who takes the cake as Patrick: his character is on the verge of becoming a flamboyant gay stereotype, but reined in by Miller's performance to become a full breathing figure of depth and charm.

First time director and writer Stephen Chbosky adapts his own novel for the screen, and his rough-edged direction and self-indulgent approach is his own worst enemy. Key scenes like Charlie getting stoned and asking for a milkshake, or the film's midway dramatic crescendo in the Fort Pitt tunnel, where Emma Watson's supposed to transform in a single moment into being Charlie's Angel, just seem affected due to Chbosky's entire mise-en-scene choosing to blow up the dramatic effect more than is required.

Where the film works and where its appeal probably lies the most, is in being an unabashed love letter to things about the Clinton era people seem to hunger for even more in an election year: where college didn't mean piling on debt, cellphones were giant handsets rather than compact as they are now, and mixtapes took the place of iGadgets. The tagline of the film is 'We Are Infinite', a statement not the least true with regard to human beings, but boy surely during the Clinton era it must have seemed that way.