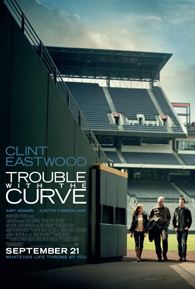 In baseball's brave new world, Gus is a relic. The oldster does baseball scouting for the Atlanta Braves the old school way, travelling cross country in the summer to visit college games to actually observe the potential talents he wants to sign on. You could tell Gus that there's a movie called Moneyball starring Brad Pitt and Jonah Hill which chronicles how computer-aided statistical analysis makes the job of scouting players so much easier, far more accurate, and delivers more bang for the buck. Like many of Clint Eastwood's unsentimental, grumpy, stubborn old man characters, Gus would swear at you and tell you he don't need no stinkin' computers and interwebs to do his job, that it's all about being there looking at the baseball players shift their feet, how they maintain their hold on the bat at the point they connect their swing, and how that report of ball against bat sounds.
But let's face it. Gus is a relic. He's getting more patently irrelevant and obsolete while younger, hungrier, more tech savvy talent and less scrupulous scouts angle for his job. And worse, he's going blind as a bat. His worried superiors send his estranged lawyer daughter to accompany him to what may be his last cross-country outing as a talent scout to advise the team on its first draft pick of the new season.
What follows is a quirky sports drama full of sports minutiae, a predictable if moving family drama, and a well-made road movie that delivers a slice of Americana. Cinematographer Tom Stern captures the lush green football fields, clear blue skies, and the summer light of the long baseball season in the South, as well as the small town bonhomie of pit stop budget motels and local bars.
As much as
Moneyball
was a celebration of paradigm change and mavericks,
Trouble with the Curve
can be viewed as a conservative defence of the good old days where things were much simpler and straightforward. If you're naturally good and hard-working and know your stuff,
Trouble with the Curve
suggests that you'll get your just rewards — no need to resort to outlandish gadgets and dirty tricks that these smart alecky city types rely on all the time.