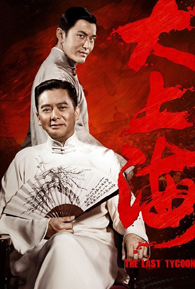 Wong Jing's infamy comes from his Hong Kong years as a director and writer for crass comedies featuring all manner of crude sexual jokes, tomfoolery, and slapstick violence that would put both the Marx and Wayan brothers to shame. But that was half a life ago; Wong moved to the greener pastures of the People's Republic of China following the collapse of Hong Kong's film industry in the 1990s, finding work as a journeyman for hire. He has become respectable, his films tamer and more tasteful — but only because it is the studio system and its producers who hold creative control in commercial Chinese film productions.
The Last Tycoon
may well be the most ambitious film Wong Jing has made in his career in the PRC. As a Hong Kong-PRC co-production, Wong Jing is finally allowed full rein in this film to showcase his vastly improved filmmaking and storytelling skills.
But Wong Jing could be a little too ambitious.
The Last Tycoon
is a hodgepodge of misaligned genres and stories that can go together with a little bit of directorial talent, but would otherwise pull a film apart because of their natural antipathies and narrative logics.
I can only summarise its plot as
The Great Gatsby
meets
Gangs of New York
meets
Inglourious Basterds
, with a little of
Casablanca
and
A History of Violence
, set in early 20th-Century Shanghai. Daqi, our Chinese Gatsby, is played by Huang Xiaoming and Chow Yun-Fat in two parallel storylines. On the eve of the Japanese capture of Shanghai, Chow Yun-Fat is the patriotic businessman and mafia don who runs into his childhood sweetheart, now a wealthy socialite who happens to be married to a communist spy holding on to a list of people the Imperial Japanese Army would like to disappear. Twenty years ago, Huang Xiaoming's Daqi is an ambitious and enterprising immigrant whom the city's commissioner of police and boss of bosses (Sammo Hung) takes under his wing. The film cuts back and forth between their stories.
Part of the problem is how despite featuring the same character, Chinese Great Gatsby and Chinese Gangs of New York don't naturally belong in the same film. Chow Yun-Fat's storyline works regardless of how much we know about his past; it thrives on mystery. The less we know about his rise to wealth and power, the more the tension between Daqi and his sweetheart works. Huang Xiaoming's storyline works as long as we don't know his future; it is diminished by certainty. The more we know how he ends up wealthy, healthy, and well-adjusted, the more perfunctory his rise to power feels. Both storylines feel truncated and shoehorned to fit into a runtime acceptable to Chinese film audiences.
Despite a firmer grasp in the technicalities of filmmaking, Wong exposes what is still his major weakness: delivering a coherent script. On a larger level, Gangs on the Bund doesn't quite work as a set-up for Chinese Great Gatsby; Chinese Great Gatsby isn't a pay-off for Gangs on the Bund. Yet when you look at the details of this film, the inability to set up plotlines that have a proper pay-off is a persistent feature. Chekov's gun continually fails to fire throughout the film.
Despite these flaws and an overuse of slow motion to denote dramatic moments and heightened emotion,
The Last Tycoon
is Wong Jing's most ambitious and best film, thanks to a stellar cast that manages to rise above the script and direction.