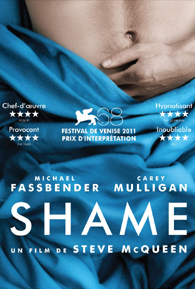 In
Shame
, Michael Fassbender delivers a performance so fierce and incandescent, it will have you flinching away in discomfort. His character, Brandon, is a yuppie who has it made. We don't know his line of work but he can afford to turn up at work late almost every day, surf for porn on the computer at his cubicle all day, accompany his boss to singles bars after work to flirt and pick up eligible bachelorettes, and return home to surf for more extreme porn-on-demand sites whose actresses are on a first-name basis with him, and of course engage in anonymous paid sex every now and then — or rather, every other day. Dashing, handsome, and rich, he is irresistible and no one may resist his charms, however emotionally damaged and cold he is. His equally troubled lounge singer sister turns up at his apartment one day and makes things worse by depriving him of the privacy to engage in these solitary, desperate acts.
Shame
forgoes the usual niceties of character development, plot, and narrative structure and turns its singular, searing spotlight on the effects of sexual addiction and its utter devastation of the human psyche. In this respect, the film succeeds in what it sets out to do. As with their previous collaboration in
Hunger
, McQueen and Fassbender have delivered another depressing film on such a primal theme fuelled by raw, emotive performances.
Since this is after all a film about the dangers of sex addiction, it would be somewhat unfair to accuse McQueen of making a dull, one-note film which seems to hammer home the message every time Fassbender jerks off in futility on screen or has an unhappy sexual encounter that "sex is bad, mmkay?" It's still easy to make this accusation though especially when in the finale, after a series of wild but unfulfilling sex with random hookers, Brandon ends up with a blow job in a gay bar, face twisted with equal parts ecstasy and shame to denote his complete humiliation at the hands of his own sexual addiction. The film is shrill and sex-negative that way.
Shame
's one-note characterisation and storytelling is occasionally punctured by the presence of Carey Mulligan, whose emotionally needy character delivers the piece de resistance of the film — a bluesy rendition of
New York, New York
. The antithesis of a Busby Berkeley musical interlude, the song is a thing of wonder that brings tears of self-recognition, despair, and helplessness to its listeners. This interlude, however brief, provides a glimpse beyond the interior, private hell of Brandon and confronts us with a visage of the City, where social anonymity and urban anomie conspire to corrupt all that is good and decent in human nature.
In this sense, it is perhaps more fulfilling to watch
Shame
as a modern successor to early noir films, where directors like Jules Dassin strove to struggle with the City as a character in itself, and told stories where troubled characters weren't really bad people but just good people stuck in a bad place.