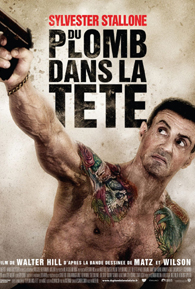 As one of the most underrated filmmakers with a career going all the way back to the 70s, Walter Hill remains better known as the producer of the Alien franchise than he is for his commendable body of work on the screen. I'd be happy to have made most of his films, even though there are filmmakers that I like more than him.

In a sea of action films more and more defined by comic book sensibilities or adaptations and merchandising bells and whistles, Hill offers a meat and potatoes approach with appeal to both the six-pack guzzler and the cineaste. His love of spare mise-en-scenes and tough-edged dialogue imbues a tragic lyricism into conventionally pulpy material. He has said before that his films are all Westerns, and like many films in that genre, his focus is on violent men who live by a code of honour all their own despite a world that doesn't understand or marginalizes them.
As Hill's first film to see release in ten years and headlined by action icon Sylvester Stallone, the question to be asked is, was Hill's film worth the wait?

The answer is a tearry-eyed Yes, and a hard No.

Adapted from a French bande dessinee (it literally means 'illustrated band', so see, it's not a 'comic book') but adapted to fit Hill's own sensibilities, Bullet to the Head transplants the graphic novel's original New York setting to Crescent City, Louisiana (of course that's another name for New Orleans, but in the film's alternate universe its official name is Crescent City). Here lives hitman James Bonomo aka Jimmy Bobo (Sylvester Stallone), who with his partner has finished a hit on what appears to be a corrupt police officer, before his own partner is murdered by a hulking menace named Keegan (Jason Momoa) in a bar. Taylor Kwon (Sung Kang) is a cop from DC who comes to CC to investigate his partner's death and finds himself partnering with Bobo in an unlikely alliance. The two men may not like each other, but they soon come to respect each other and their differing codes. Along the way, supporting eye candy comes in the form of Bobo's comely daughter Lisa (Sarah Shahi), a tattoo artist who did some time in med school. A conspiracy is uncovered, and Bobo and Kwon go out for some name-taking and ass-kicking, or rather as the title implies, head-shooting.

Like most Hill films not much actually happens here, it's just two guys driving around town, getting information about respective sleazebags, with Bobo interrogating and killing said sleazebag, and moving on to the next, while Keegan and his group of highly trained mercenaries tail them. Where Hill makes it enjoyable is as always in the telling: Lloyd Ahern's cinematography is moody and atmospheric, and the relationship between the two anti-heroes is appropriately prickly throughout never really allowing them to be friends. Stallone, still pretty buff half past his sixties, is settling nicely on his own even without the rest of his Expendables cast, his slurred speech with time given him the beat-up charisma of an old muscle car. Also commendable is the film giving us a non-stereotypical Asian American lead (Sung Kang who was brought in to replace Thomas Jane). The end result is very entertaining and enjoyable in a way that few films are today; direct, without bombast or fanfare. Most of the time at least. Hill mainly fails in those few sequences where he tries to cop a shot or two from the Tony Scott school of filmmaking in the form of short replays of scenes with screen flares. When he acts like the old man he is, the film mostly succeeds.

So that's where the teary-eyed Yes comes in. After all these years, Walter Hill remains Walter Hill and seeing the movie one familiar with his filmography can definitely detect similar references to past films of his: a fight with firemen's axes echoes both the hammer fight at the end of Streets of Fire and the baseball furies bat fight in The Warriors, the banter between the leads recalls 48 Hrs, and Hill's affection for New Orleans, as seen previously in Hard Times and Johnny Handsome, burns as brightly as ever.

Here's where the no comes in. The world's simply moved on beyond Hill. Seeing this movie is recognising that a hoary old veteran is no longer at the top of his game and those following in his footsteps now do what he does and have further developed his formulas, most notably Christopher McQuarrie with The Way of the Gun and Jack Reacher and Nicolas Winding Refn with Drive. It's revealing that in the era of Katniss Everdeen, Hill still retains firmly subordinate roles for his women and prefers to traffic in archetypes than fully-formed individuals, the same quality that has made his work intensely cinematic even as it has kept him from broader mainstream recognition.

It's ironically easy to forget upon seeing this movie what an innovator Hill once was and how now he comes across now as an imitator of those who have followed him. Still, the fact that this movie feels this way is still a testament to Hill's mark on cinema.

Walter Hill is dead. Long live Walter Hill.