From idea to silver screen a producer's view by Jayne Chard.
Writer/Director Joe Ahearne and myself had met at film school and always wanted to make a feature film together but somehow had never got around to it. In July 2014 we did. Joe came up with the idea of setting a thriller around a remote B&B. I knew it would be a Hitchcock style thriller as that's the style that Joe loves. In the first draft we had two couples – two lesbians and two gay men but as the script developed we decided to simplify it and just have two gay men who go back to a B&B, the owner of which they had sued the year before for not allowing them to share a double bed.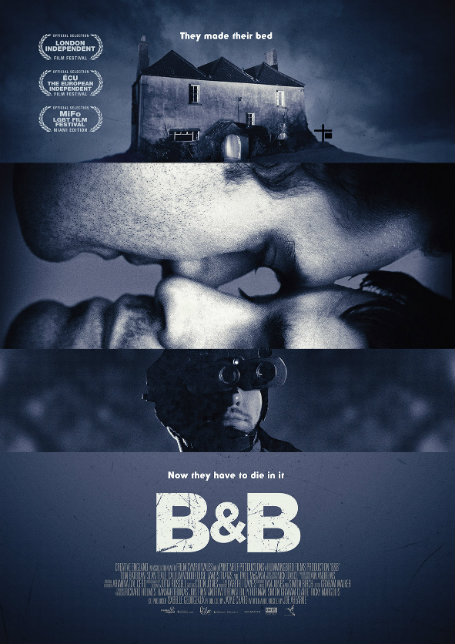 When the script was in good shape it was my job to go and find the money. This is probably one of the most difficult parts of the process as there is massive competition for funds. Having to enthuse others with as much passion for the project as you have is hard work. For anyone doing my job the first lesson you have to learn is that nobody cares if you make your film – except you. You have to be prepared to work 24/7 seven days a week for as long as it takes.
The first breakthrough on the finance front was when Creative England gave us a production award. It was time to test the water at the Berlin Film Festival where I had set up a number of meetings with Sales Agents. It didn't go well. The budget was too high and, in my pitch, as I got to the final act of the script, I could see people's eyes glazing over. The second lesson is you have to learn as a producer is to ride the horse in the direction it's going. Back in the UK I said to Joe that we had one of two choices: either he rewrote the last act and make all the action take place in one location so we could reduce the budget or else we may as well forget it.
Joe wrote a new draft, by now number 25, all set in one location with a completely different third act. We were in business.
I was able to build on the Creative England funds and entice other investors. I pulled in some private investors through a SEIS scheme and through a contact that one of the Executive Producer's had introduced me to, but I was still short of the full budget. I had applied to FFilm Cymru for funds but been turned down, I decided to try them again, and this time, as they were sure that the project was definitely happening, they were the last in and finally we had all the money. That was October 2015.
Through November and December we were what is termed in the business "closing the finance". This is probably one of the most stressful things I have ever done. All the financiers jostle for position while the lawyers go through every contract with a fine toothcomb. It was exhausting and terrifying all in one and there were a few times when I thought that we wouldn't make it. One of my Executive Producer's Ricky Margolis of Future Films, who lives in LA, was amazing, getting up at 4 am to be on conference calls and support me.
Without funds secured, I had to start employing my production team and the actors in December as we were shooting in January, a date that wasn't moveable because of Joe's availability. If the funding didn't come off I was personally up to pay a large sum of money. It was a risk but I had to take it.
On top of all this we were still searching for a location up until the last minute and it was only a chance conversation with a friend that led us to the farm that we filmed in.
The film started shooting on the 18th January 2016. But that's anther story……..Watch the trailer now:
Next time … watch the video of Behind The Scenes at B&B. Producer Jayne Chard talks about the filming of B&B. Exclusive.