Widely reported by the media, Cambodia's prime minister Hun Sen was speaking a university graduation ceremony in Phnom Penn last Tuesday when he revealed that his 19-year-old adopted daughter is a lesbian and that he was severing ties with her.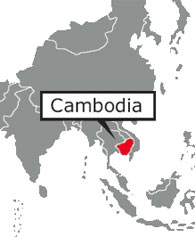 Cambodia's prime minister Hun Sen
At the same event, he told the 3000-strong audience at the National Institute of Education that it is wrong to discriminate against gays and lesbians.
The revelation is said to be rare as the premier, who has been the country's prime minister since the mid 1980s, is not known to discuss his family in public.
"I was disappointed. I can educate an entire nation, but I cannot educate this adopted daughter," the
Bangkok Post
quoted Hun Sen as saying.
"My daughter has married a woman... Now I will ask the court to cut her out of the family," he said.
The Post added, "Hun Sen spoke about his personal struggle, saying media and other educational forums had taught him it was okay to be gay, but when it happened in his own family, he 'did not know how to do.'"
His comments were edited from later versions of the speech aired on state media.
"We sent her to study in the US, but she did a bad job. She returned home and took a wife."
According to reports, Hun Sen said he plans to file a civil court case to disown his adopted daughter, whom he did not name, so that she cannot claim any inheritance from his family.
The 56-year-old prime minister and his wife is known to have five biological children - three sons and two daughters, and his daughter was adopted in 1988 when she was 18 days old.
"We are concerned that she might one day cause us trouble... and try to stake her claim for a share of our assets," he said.
In his speech, Hun Sen appealed to parents and society not to discriminate against gays and lesbians.
"Most of them are good people and are not doing alcohol, drugs," he added. "I urge parents of gays not to discriminate against them, and do not call them transvestites," Hun Sen said.
In 2004, then-King Norodom Sihanouk announced on his web site his support for gay rights, including the right to marry.