In just one week, three Korean actors are dead from apparent suicides. According to a police investigator, the 39-year-old Choi Jin-sil, who was one Korea's most popular actors, hanged herself in her Seoul home on the morning of Oct 2. The next day, 26-year-old transgender entertainer Jang Chae-won was found dead under similar circumstances. And on Oct 7, police say that Kim Ji-hoo hanged himself in his bedroom. An apparent suicide note from the 23-year-old actor said, "I'm lonely and in a difficult situation. Please cremate my body."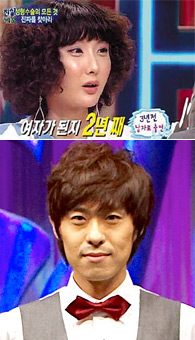 Transgender entertainer Jang Chae-won (top), 26, was found dead on Oct 2. Days later, openly gay actor Kim Ji-hoo, 23, hanged himself in his bedroom, according to the police.
Jang and Kim were among Korea's coterie of openly gay and transsexual celebrities in a society that still attaches significant taboos to homosexuality and transsexuality.
According to the
Seoul Shinmun
, in 2004, Jang appeared on the SBS television program
Truth Game
as a cross-dressing man who was prettier than several women. While appearing on a major network show, Jang told the audience that she was previously a man. Since coming out, she developed a small following on the popular Korean Web community portal, Cyworld, which is similar to US-based social Web sites like Facebook and MySpace.
Kim was an actor and model who entered public life in 2007 after appearing in a fashion show. Labeled "one to watch", he was a guest on the MBC television drama,
Before and After Plastic Surgery
, and the family sitcom,
The Unstoppable High Kick
. Recently, Kim appeared on tvN's cable reality program,
Coming Out
, where he came out as a gay man.
The groundbreaking series, which premiered on April 14 featured dramatic profiles of LGBT men and women who have come out to family, friends and coworkers. One of the show's co-hosts is Hong Seok-cheon, who is also openly gay.
Kim's mother told police that he "underwent many professional and personal difficulties" after appearing on
Coming Out
. His personal Web page was inundated with messages denouncing his sexual orientation, and a
Korea Times article
says that several fashion shows and television programs cancelled his appearances following his public disclosure of his sexual orientation. Kim's management company also did not renew his contract. Police, who have confirmed that his death was a suicide, say that Kim's suicide reflects the public's negative attitudes about homosexuality.
Just days before taking his life, Kim wrote on his web site: "Life is like the wind. What's there to agonise over? Meetings are happy, partings are sad, everything is just a moment." Funeral services are planned for Oct 9.
Suicide is the leading cause of death among people in their 20s and 30s in Korea. According to the Organisation for Economic Cooperation and Development, South Korea's suicide rate is the highest of its 30 member nations.
Matt Kelley is a gay mixed-race Korean-American living in Seoul. He is currently writing a book about the intersections of race and sex in Korea. His website: www.mattkelley.info.