Law Minister K Shanmugam said Singapore will not repeal its laws criminalising gay sex although the law will not be enforced. His comments come after the Delhi High Court ruled last Thursday that consensual sex acts between men in private is legal.

Singapore's Section 377A of the Penal Code which specifies a jail term of up to two years is derived from the Indian Penal Code introduced in 1860 by colonial British administrators.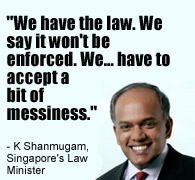 The minister was quoted in the Singapore
Straits Times
as saying that the law would remain as the Government "cannot move ahead of public opinion" and has to "be careful of being ahead of public opinion."
In 2007, the Ministry of Home Affairs announced that it would not proactively the law (Section 377) although it would be retained.
"We have the law. We say it won't be enforced. Is it totally clear? We, sometimes in these things, have to accept a bit of messiness. And the way the society is going, we don't think it's fair for us to prosecute people who say that they are homosexual," he said at a meeting with residents on Sunday.
"But at this time, our society is not ready for us to say we will pass legislations which say homosexuality is no longer an offence," he said.
A MARUAH (Singapore Working Group for ASEAN Human Rights Mechanism) spokesperson Fridae spoke to had this to say: "The intentional maintenance of laws that are deliberately not enforced will tend to bring the law into disregard, which should be avoided. As a human rights group, we see the law as a critical mechanism for the protection of rights and of minorities, and accordingly any provisions that would tend to bring the law into disrepute should be repealed."
Alex Au, prominent Singapore gay activist and social commentator, says as law minister, Shanmugam has the responsibility to ensure that legislation is just.
"Shanmugam is shirking his sworn constitutional duty to merely say let bad law stand; we'll just not enforce it. Such arbitrariness is contrary to constitutional government. I look forward to the day when he says let all tax laws stand, we'll just not enforce them. What's good for the gay goose should be good enough for the ganders," Au told Fridae.
"He should proactively start the process of repeal."
Meanwhile, the
Times of India
on Sunday reported that the central Indian government is unlikely to oppose the verdict in the Supreme Court as the ruling is thought to be "reasonable and well-balanced."