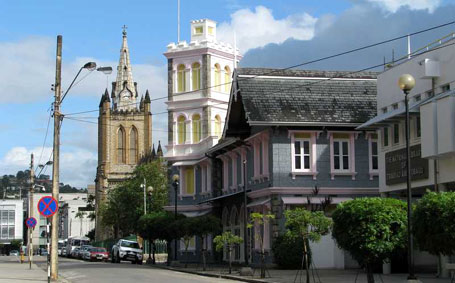 Port of Spain, the capital of Trinidad and Tobago retains a quiet colonial feel.
When I told people that I was going to the Caribbean island of Trinidad, most people envied me for the chance to go to an island paradse.
I laughed. Firstly, I've been there before, and to be brutally honest, I thought it was a boring place. It was not on my Revisit List. Now, having been here two days so far, I can assure you little has changed. Virtually all shops close by six; no one walks on the streets at night for fear of muggings and I could barely find a restaurant open for lunch on the first Sunday. Secondly, I'm here for a conference, and if you think conferences are junkets, think again. When the aim is to try to get state leaders to pay attention to the gay issue, it's hard work and uphill all the way.
Trinidad is the venue for the 2009 Commonwealth Heads of Government Summit. The Commonwealth is a grouping of 53 countries, most of which are ex-British colonies, though more recently, Mozambique (ex-Portuguese colony) and Cameroun (ex-French colony) have joined. One very common feature of ex-British colonies is that they share a nasty inheritance from victorian England - sodomy laws. It is therefore felt that if one wanted to try lobbying governments at an international level, the Commonwealth may be a good focal point.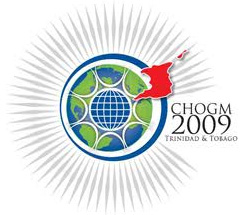 Representatives of gay groups from ten countries are here. Including other gay activists from other countries who do not represent groups, we have a gay caucus of nearly 20 persons. I'm representing People Like Us from Singapore. There is Siddharth Narrain from India and Thilaga Sulathireh from Malaysia - the other two Asian countries in the caucus. Naturally, we don't get to attend the summit itself, but there is a parallel conference called the Commonwealth People's Forum running from Nov 22-26. At this conference, to which 500 people registered, but I think only about 300 showed up, we draft a statement expressing civil society's chief concerns, and this statement is submitted to the heads of government.
What happens next is not guaranteed. Mostly, civil society statements are ignored by political leaders, but persistence over many years will pay off. Even if the backward countries take no notice of civil society concerns, such as the one we wish to make - gay rights - the more developed countries, e.g. Britain, Australia and Canada may, and may go on to encourage their fellow Commonwealth members to do something about the issues raised. No doubt, we keep our expectations low, but as activists we take the view that unless we try, we'd never know how far we can go.
Just being able to gain entry is a victory of sorts. At the previous summit, held in 2007 in Kampala, Uganda, a local LGBTI group was forced out of the publicly-accessible People's Space (a part of the People's Forum) and were beaten with sticks by plain-clothed police officers. Foreign visitors to the summit and the People's Space, including committed Commonwealth activists who attemped to intervene, were also excluded from the Space.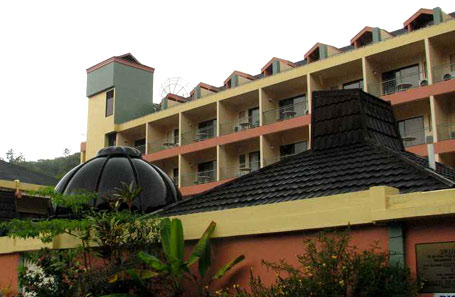 The Commonwelath People's Forum is taking place in Cascadia Hotel.
At this 2009 conference, Uganda once again is the bad boy of the class, even though we're in Trinidad. Raising the ire of many human rights activists here - not just the gay ones - is a proposed law winding its way through that country's legislative process, that increases penalties for homosexual sex.
A leaflet distributed here in Trinidad explains that just about everybody, not just gay people, will be affected by this proposal, driven by extreme homophobia. To quote the leaflet, the bill puts at risk.
- any parent who does not denounce his lesbian daughter or gay son to the authorities; failure to do so will incur a fine of Ugandan Shillings 5 million, or a jail term of three years;
- any teacher who does not report a lesbian or gay pupil to the authorities within 24 hours; failure to do so will incur a similar penalty as above;
- any landlord who gives housing to a suspected homosexual; seven years' imprisonment;
- any religious leader who seeks to provide guidance and counselling to people who are unsure of their sexuality; he would be regarded as promoting homosexuality and punished accordingly;
- any NGO activist or academic, if their organisation or institution seeks to have a comprehensive position on sexual and reproductive health; their organisation risks being closed down.
But most egregious of all is the increase in the penalty for homosexual sex to life imprisonment; death penalty if HIV-positive.
There's an article in the Autumn 2009 issue of the Newsletter of the Commonwealth Human Rights Initiative that also mentions Uganda. First, however, it refers to the many countries which still criminalise 'unnatural sex':
"With sodomy laws still in place, judges and public figures have, in recent decades, defended them as citadels of nationhood and cultural authenticity while at the same time complaining that homosexuality comes from the colonising West. They forget that it was the West that introduced the first laws enabling governments to forbid and repress it."
But memories are short, and the article tells of a different kind of horror just over a century ago:
"The overlapping relationship of colonial and post-colonial identity formation is perhaps best illustrated from within the Commonwealth African nations. In Buganda (the former kingdom of Uganda) in 1886, the Kabaka (King) Mwanga executed more than 30 of his pages within his royal court, apparently for refusing sex with him following their conversion to Christianity."
The irony would be funny if not for people being killed over all that.
Alex Au has been a gay activist and social commentator for over 10 years and is the co-founder of People Like Us, Singapore. Alex is the author of the well-known Yawning Bread web site.