It's Asia's largest film festival in terms of the number of film screenings and the duration of the festival.
Now in its ninth year, the Q! Film Festival is expected to screen 120 films in six cities including Jakarta, Surabaya, Malang, Yogyakarta, Bali and Makassar (South Sulawesi) for a month. The festival is also officially acknowledged as a part of the Teddy Award Section of Berlin Film Festival called "Teddy on Tour" program since 2006.
In addition to film screenings, the festival in Jakarta will also feature two art exhibitions: The Napkin Boys by Carlos Franklin and Top/Bottom?, a group showing by more than a dozen artists. There will also be talks and three book launches in Jakarta: Q! Stories, Orang Macam Kita – the first Malay-language anthology of queer writing featuring 25 short stories and essays, and Menagerie 7 – the first anthology in English of Indonesian gay literature.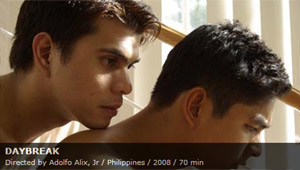 For schedule of films and events, visit www.q-munity.org
The month-long festival in the predominantly Muslim country is notably the largest LGBT event of its kind anywhere in the world. In March this year, a regional conference in Surabaya organised by International Lesbian and Gay Association – Asia was forced to cancel after protests by the Islamic Defenders Front (FPI), a fundamentalist group, and the Indonesian Council of Ulema (MUI), an association of Muslim clerics.
Festival director John Badalu told Fridae that although he is aware of the potential risk, he says the festival is "different in principle" and considers the festival to be "more cultural rather than political."
He says he is also more cautious by being selective of the medium to promote the festival. "We never do a public press conference for example. And we choose only queer-friendly media."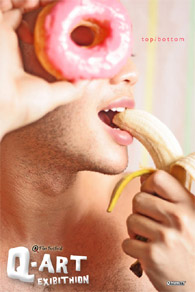 TOP/BOTTOM? Open daily :23 September - 03 October 2010 at GALERI CIPTA III Taman Ismail Marzuki, 13.00 - 21.00
Badalu, who's also a co-founder of the festival which began in 2002, revealed that they had faced similar protests in the first two years of the festival but did not experience any damage or disruption.
According to Badalu, the festival does not require specific permits from the police or any other authorities as the organisation was officially established to organise a film festival once a year. "And also because all the screening venues are cultural venues and foreign embassies that regularly organises events, it is considered as their regular events," he explained. The festival however did seek a "permit" in Bali as it is done traditionally to show deference to "unofficial authorities" such as the chief of the village.
The festival works closely with a number of foreign governmental or government-linked groups including Goethe Institute (Germany), Erasmus Huis (Dutch Cultural Centre), Central Culture Francaise (France), Japan Foundation and AusAID (Australia) and is mainly funded by Holland-based Hivos (Humanist Institute for Development Cooperation).
Festival guests include Zvonimir Dobrovic – Founder and Programme Director of Queer Zagreb Festival (Croatia), Carlos Franklin –visual artist (Colombia), Hiroki Iwasa – musician and filmmaker (Japan), Koichi Imaizumi – actor, scriptwriter, independent filmmaker and producer (Japan), Lawrence Ferber – filmmaker, journalist and programmer for Philadelphia International Gay & Lesbian Film Festival (US) and filmmaker Royston Tan (Singapore).
Festival dates
Q! Film Festival Jakarta
22 Sept - 3 October 2010
Q! Film Festival Surabaya
5 - 10 October 2010
Q! Film Festival Malang
07 - 09 October 2010
Q! Film Festival Yogyakarta
11 - 12 October 2010
Q! Film Festival Bali
13 - 17 October 2010
Q! Film Festival Makassar
18 - 22 October 2010
For schedule of films and events, visit www.q-munity.org