The Socialist Republic of Vietnam will hold its first ever LGBT pride festival in the capital city of Hanoi with a unique Cycle with Pride parade on Sunday.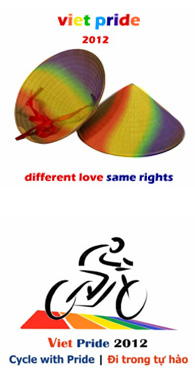 Last month, the country's Justice Ministry announced that a special consultation about same-sex marriage was underway and is expected to be discussed at the National Assembly congress in 2013. Should it go through, Vietnam will be the first Asian country to legalise same sex marriage.
Viet Pride will run from Aug 3-5 and will feature film screenings, research presentations, music live performances, and a cycle parade through the city center on Sunday morning beginning at My Dinh Stadium and ending at Ly Tu Trong Park.
Organised by Nguyen Thanh Tam and a group of volunteers, the event is supported by the Center for Studies and Applied Sciences in Gender, Family, Women and Adolescents (CSAGA) where Tam is casually employed. The 25-year-old self-described "freelance activist", who has lived in Singapore for the last six years, was inspired to organise Viet Pride after she and other activists were sponsored to attend Stockholm Pride last year.
The event is also supported by the Institute for Studies of Society, Economy and Environment (iSEE), and Information Connecting and Sharing (ICS); venue and in-kind sponsors Goethe Institute, Lebox Produktion (Sweden) and Hearst Entertainment (US); and in-cash sponsors Embassy of Sweden and Embassy of Canada.
Tam told Fridae in an email interview that organisers have received about 160 confirmations for indoor activities and over 200 for the parade as of Tuesday.
Homosexuality is not illegal in the former French colony although it remains largely taboo as Vietnamese society is influenced by Confucian social mores that places emphasis on tradition and family.
The event's website adds: "Homosexual relationships and practices are still a taboo, even though Vietnam is not a country with widespread violence and anti-gay policies. Negative social attitudes and stigmas are still a reality. Disapproval, discrimination and degradation are prevalent in all social institutions – schools, workplaces, public areas, and families. Even worse, corrective actions do happen: home confinement at best and arranged rape at worst."
"The event serves to encourage people to come forward, to come out and to live openly with pride; to strengthen the sense of community that transcend group boundaries and differences… In celebrating the first ever Pride in Vietnam, let us dedicate the first weekend of August to recognise and celebrate the pride in ourselves, the pride in our fellows who are fighting and striving for the truth they want to live, and ultimately, the pride in being on the right side of history."
For more info and the schedule of events, visit vietpride2012.weebly.com.