Here we have yet another speed-freak machine from Ingolstadt. This serious machinery is armed with a high-revving V-8 that delivers 450 bhp at 8250rpm and 430 Nm at 4000rpm, capable of sling shooting the 1.7 tonne coupé from a standstill to 100 km/h in just 4.6 seconds.
As expected Audi's famed Quattro is featured, but armed with a torsen centre diff where 60% of the power is apportioned to the rear tyres. Speaking of rubber ware, the RS5 comes with a massive 275/35 R20 tyres, presumably to kill understeer.
Just to be absolutely sure, they fitted a torque-vectoring active differential at the rear axle with the intention to eradicate understeer and provide absolute traction at all times and conditions.
The tech-fest doesn't end here; the RS5 can be optioned with another sport differential which actively splits torque between the rear wheels. The traction control is graded to allow a bit of wheel slip and the active electronic damping system automatically adjusts to suit the road conditions according to the selected mode; Comfort, Auto, or Dynamic.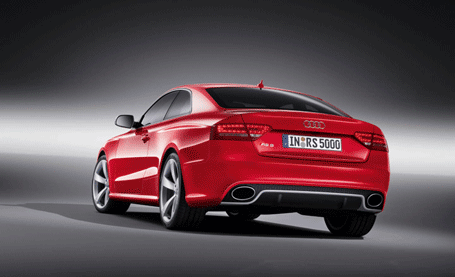 The pair of fat exhausts will be the only view most people will be only able to see on the roads
For what sounds like a very performance-focused car, there will be no manual gearbox; instead it comes with a standard seven-speed dual clutch S-tronic gearbox, which 90% of drivers in this class prefer, according to Audi.
As many would be aware (by now) that such gearboxes are more fuel efficient and better acceleration times than the traditional shift stick. Well, in practice, the S-tronic handles the power brilliantly and in manual mode it allows you to fully exploit the massive torque.
Potential RS5 owners should always start their "show-car tour" from the engine bay. Pop the hood and your friends (foes) will be awed by the all-aluminium-alloy block with visible wires, red cylinder head covers and the odd carbon fiber trimmings. Few cars this side of supercars have such "decorated" engine bay.
Should the "Show and Tell" extend to a spin round the block, they will be overwhelmed by the V8 angry exhaust note that sounds like an American muscle car. Audi has gone to the trouble of fitting an electronic system that allows a spot of fuel into the exhaust every time you short-shift up a gear. Should you be in the mood to just take things easy, it's quiet and refined.
Though it must be mentioned that the show-off types might be put off by Audi's subtle approach towards its RS models; other than those flared wheel arches, only those fist-sized exhaust seems to give the game away.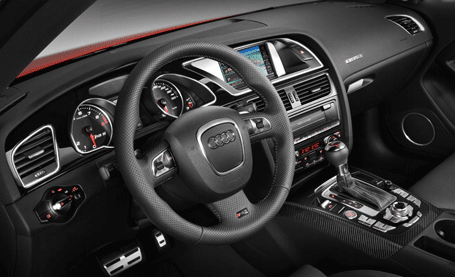 Inside the RS5: Audi's ace card, superb quality, dark, understated and cool.
On paper, Audi's latest über coupé is shaping up to be a modern-day version of the 1980 original Ur-Quattro. In reality, the current Audi RS high-performance range of RS6, TT-RS and RS5 have evolved into effortless speed machines, where average drivers will feel assured enough to go throttle heavy regardless of weather or surface.
While one might experience some lairy moments with the BMW M3 or Mercedes C63 AMG along some "tricky" roads, rainy day or not, the Audi RS5 will simply power through with no fuss. This car is all about flattering you and at the same time being remarkably laid-back speedy bruiser of sorts. Of course, along the way, the RS5 driver can impress the unassuming date.
But once the showing off is done and you want to get down to the business of serious on the limit driving, the RS5 seems disinterested to play ball. Having driven it on the circuit, the car feels ponderous, at some point, the engine seems unable to cope. Guess no amount of techy diffs can overcome the porky 1,725 kg kerb weight.
Objectively, the Audi RS5 represents an everyday performance car just like the R8 is the supercar for everyday use. And should there be anyone has mistaken your S$389,650 RS5 for a cooking standard A5 coupé, simply give a firm jab to the throttle for clarification.
| | |
| --- | --- |
| Engine | 4163 cc V8 32-values |
| Transmission | 7-speed dual-clutch |
| Wheels Driven | All |
| Max. Power | 450bhp @ 8250rpm |
| Max. Torque | 430Nm @ 4000-6000rpm |
| 0-100 km/h | 4.6 sec |
| Top speed | 250km/h |
| Fuel Economy | 9.3km/L |
| CO2 Emissions | NA |
| Dimensions (L x W x H) / Weight | 4649 X 1860 X 1366 / 1725kg |
| Price with COE* | S$389,650 |