Representing the Government of India, Additional Solicitor General (ASG) P P Malhotra has questioned if the judiciary has the authority to legalise sexual relations among people of the same sex.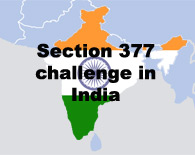 As reported by the iGovernment web site, Malhotra said in his 100-page written submission filed in the Delhi High Court last week: "The court is not the authority to decide what should be the law or what should not be the law. These are the functions of the Parliament and the will of the Parliament is represented by its members. They know the will of their people, the difficulties of their people."
The government counsel's submission came on a public interest petition filed by gay rights activists seven years ago seeking to have Section 377 read down i.e. for sexual relations among consenting adults of the same sex in private to be legalised.
At present, sex between persons of the same gender is an offence in the country and Section 377 of the Indian Penal Code (IPC) provides a punishment up to life imprisonment.
The ASG added, "It may not be proper for the court to assume the role and will of the people or to act as a Parliament to change the law."
"What are the laws and what could be the law should be left to the wisdom of the Parliament. Neither the Courts are equipped nor is it the function of the Court to decide what the law should be. The Courts have only to interpret the law as it is."
The Delhi high court completed hearing arguments in the case on Nov 7 and has reserved its judgment.
While the health ministry supports the decriminalisation of same sex on the grounds that the current laws obstruct HIV/AIDS education campaigns, the home ministry maintains that gay sex is the product of "a perverse mind" and contended that homosexuality is a disease which is responsible for the spread of AIDS in the country.
The comment invited objection from the bench which said: "Show us one report which says that it is a disease. A World Health Organisation (WHO) report says that it is not a disease but you are describing it as a disease. It is an accepted fact that it is a main vehicle that causes (AIDS) disease but it is not a disease itself."
On another occasion, the government's counsel was asked to present scientific reports after he cited a verse of the Bible condemning gay sex.
"We are not taking it (religious literature). We will be going by your report submitted by National Aids Control Organisation (Naco). We would rely on that report. You can counter it by some scientific report," the bench said.