Tan Eng Hong was fined S$3,000 by a district court on Tuesday for performing fellatio on another man in a public toilet in Citylink Mall, reported Singapore-based Channel NewsAsia on Wednesday.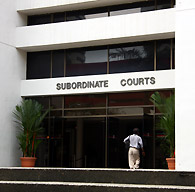 His partner
Chin Chee Shyong
was similarly convicted under Section 294 of the Penal Code and fined S$3,000 last month.
Both their charges were amended from Section 377A, which prohibits sexual relations between men and imposes a jail term of up to two years, to Section 294A which imposes a jail term of up to three months, or with fine, or with both.
Tan's lawyer M Ravi, who filed an application on behalf of his client to challenge the constitutionality of Section 377A of the Penal Code was rejected by the High Court last week. M Ravi told Fridae last week that he plans to appeal the High Court's decision.