In an one hour and 13 minute interview with Google for their Musicians@Google series, host Marissa Mayer read a question submitted by a user who wanted to know what Lady Gaga thought about the decision by a Malaysia radio operator to censor the line "No matter gay, straight or bi, lesbian, transgendered life, I'm on the right track, baby" from her latest track "Born this way".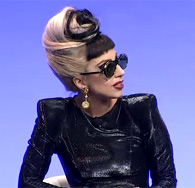 Lady Gaga
At about 38.40mins, the superstar said: "Well obviously I disagree with it, otherwise I wouldn't have specifically put those words in a song that I knew would be put on Top 40 radio.
"What I would say is for all the young people in Malaysia that want those words to be played on the radio, it is your job and it is your duty as young people to have your voices heard. You must do everything that you can; if you want to be liberated by your society, you must call, you must not stop, you must protest peacefully. No violence. I don't believe in violence. I don't believe in negativity. There's no reason to be derogatory. You just need to keep fighting for what you believe in. And to be quite honest, honesty and the truth is always what will always set you free.
"I can't tell you how many times I get phone calls from TV stations... and they want you to edit out this section of the video... And I'll say just tell them I'm not doing it and if they don't want to play it then they don't have to. *shrugs* That's it."